This article focuses on grassroots digital activism in the Arab world and the risks of what seems to be an inevitable collusion with U.S foreign policy and interests. It sums up the most important elements of the conversation I have been having for the last 2 years with many actors involved in defending online free speech and the use of technology for social and political change. While the main focus is Arab digital activism, I have made sure to include similar concerns raised by activists and online free speech advocates from other parts of the world, such as China, Thailand, and Iran.
This piece stems thus from a major assumption that U.S official and corporate involvement in the Internet Freedom movement is harmful for that same freedom. I will explain why I consider the new context as extremely dangerous for the digital activism grassroots movement. Many people outside of the U.S, not only in the Arab world, have a strong feeling that the Internet Freedom mantra emitting from Washington DC is just a cover for strategic geopolitical agendas.
This Internet freedom policy won't be applied in a vacuum. At first, it will build upon broader U.S and Western foreign policy and their strategic goals and interests; in other words, it will continue projecting the same Western priorities. Having the U.S and other Western government as major actors in the Internet freedom field could present a real threat to activists who accept their support and funding. A hyper-politicization of the digital activism movement and an appropriation of its "success" to achieve geopolitical goals or please the Washington bubble are now considered by many as the "kiss of death". In a worst-case scenario, Western funding, hyper-politicization and support could also lead to a brutal alteration of the existing digital activism field and the emergence of a "parallel digital activism" in total disregard to the local Arab context. We should also point out how hypocritical and unequal the online free speech movement is in its support for Internet Freedom of bloggers and digital activists at risk.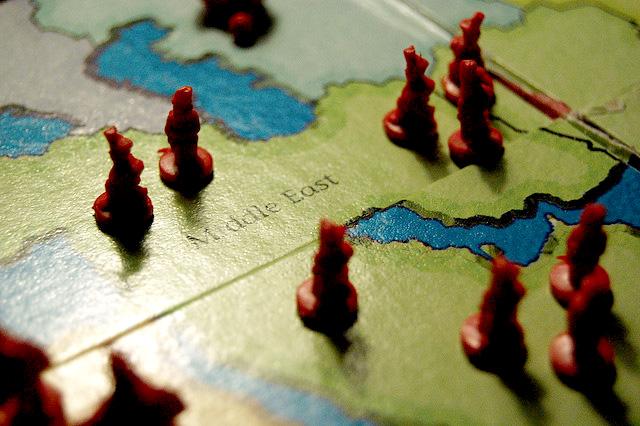 When putting Internet freedom at the center of its foreign policy agenda, the U.S will be disinclined to engage in any kind of action which might endanger the "stability" of the dictatorial Arab order. And because it is unrealistic to expect the U.S or any Western government aggressively working to boost political dissent against their closest Arab allies, the way they're doing with Iran or China, we cannot afford the risk of a potentially disastrous hijacking of the Internet Freedom by powerful actors to serve geostrategic agendas that are not in our favor.
My own concern is that every bridge that will be build between the U.S government and U.S research centers and NGOs working around the Internet Freedom and digital activism field will lead to the destruction of number of the already existing bridges connecting those same NGOs and research centers to grassroots activists and bloggers from the Arab World and the Middle East. And unless something changes the U.S foreign policy dynamics, activists—especially those from the excluded countries—will always look at it as a hypocritical policy trying to use them and their causes for the sake of own agenda or simply for domestic consumption.
The direct risks on the digital activism field in the Arab World, in its current early stage of development, are thus huge and need therefore to be discussed and addressed. This is a modest attempt to outline possible strategies for the future of an independent and grassroots Arab digital activism movement and how to better understand and navigate the new chessboard of the "21st-century statecraft".
Digital activists as new actors for change
Filling the gap that mainstream media and traditional Human Rights organizations have left open, the Arab digital activism movement has established itself, with varying successes and failures, as a vibrant actor for change, shaping a relatively important portion of the public opinion (e.g., the connected and literate) while evolving in a cyberspace that looks better suited to resist governmental attempts to police it the way it did with traditional means of organizing and communicating.
In its first stage, it is vital to point out that none of the most successful digital activism campaigns and initiatives that have marked this field with innovative and creative approaches in dealing with sensitive topics have been funded by any of the Western governments, institutions, or donors. In contrast to some of the currently U.S funded digital activism initiatives, the early ones have the following characteristics:
- Necessity: In the Arab world, the use of digital tools for social and political change was not driven by hype or a professional or media interest. On the contrary, it was the result of needs driven by a strong commitment to defending Human Rights. Those needs are a direct result of an established authoritarian environment and a lack of an open space where activists could practice their citizenship. Digital activism has been "invented" and rose out of necessity to fill the very gap that was left by traditional civil society constituents.
- Independence: The digital activism field in the Arab world forms one of the most decentralized, unstructured, and grassroots oriented dynamics of change that even most of the cyber-savvy local NGOs and opposition parties have a serious trouble in "infiltrating" or exploiting it for their own benefit. Consequently, this has made this movement independent, attractive, and resistant to any kind of control. But independence does not necessarily mean disconnection or isolation. Many digital activists in the Arab world do collaborate with opposition parties or movements. Most of these activists are also interconnected with each other; they collaborate during major events and rally to support each other's campaigns and causes. They are connected as well to the global digital activism movement through conference circuits and face-to-face meetings.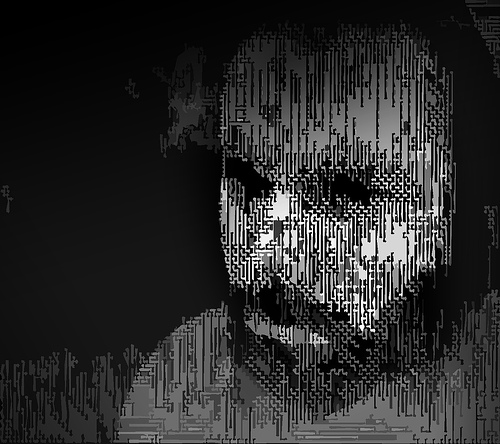 Add to that the strong networking capability that social networking platforms have integrated in their daily web activity, digital activists act, react, and interact in a multilayered context of activism that is local, regional, pan-Arab, and global. Most importantly the most successful online campaigns to free and support jailed and threatened bloggers are conducted by grassroots activists with loose affiliations of networks and peers. And they are playing key roles in this field.
- Complexity: AWhile it may look easy to grasp, digital activism is a complex multi-faceted movement, varies strongly from one country to another, and changes over the course of time. It's always evolving by adopting new tools and tactics and through a constant adjustment of its strategies of resistance and actions.
A change is underway
All these characteristics have made Arab digital activism vulnerable to a variety of challenges. On the one hand, its independence and other characteristics can lead to a structural and financial crisis that could threaten its very future. At some point, and out of pure necessity, volunteer-based digital activism might seek to adopt a professional approach that requires resources. Anti-censorship resistance strategies cannot beat a sophisticated and determined Internet police. A hobbyist's security capabilities cannot stop sophisticated DDoS or hacking attacks. Encryption technologies and security measures are totally useless when passwords and other sensitive data are extracted via torture and threats. On the other hand, its complexity has made it hard for foreign actors involved in the digital activism filed, whether through funding, training, capacity building or logistic support, to come up with a policy that takes that very complexity of each country into account when shaping or running programs targeting the entire region.
Those early characteristics are about to change due to a myriad of factors and actors that need to be understood in order to prevent digital activism in the Arab world from losing its most genuine and cherished characteristic which is its autonomy.
The existential question is how to overcome these challenges and preserve the independency while addressing the needs of building a vibrant, efficient and solid digital activism field.
As the Internet Freedom and digital activism are getting politically trendy with fancy rhetoric and theories of change, lots of governmental money is being spent on this "new Colorado of change". For many governments, NGOs and circumvention tools providers and promoters, this constitutes an unprecedented opportunity to push for own agenda, better adjust public relations strategies according to the momentum or simply raise more money.
Caught in the middle between authoritarian regimes aggressively engaged in repression, Internet filtering and monitoring on the one side, and growing attention from Western public agencies and associated NGOs on the other, digital activists and online free speech advocates in the Arab world are going through one of the most challenging phases of their short history that could alter their ecosystem dramatically. The number of workshops and conferences organized by U.S and Western NGOS targeting Arab bloggers and activists has dramatically increased over the last few years to the point that no one can accurately predict the consequences of these activities on the nature of the Arab digital activism.
A new context
During her "Remarks on Internet Freedom" speech in January 21, 2010, U.S Secretary of State Hillary Clinton elevated Internet freedom to be a major foreign policy of the new Obama administration. Two months before that speech, in November 2009, Secretary Clinton announced the Civil Society 2.0 initiative which will help grassroots organizations around the world use digital technology, "allocating $5 million in grant funds for pilot programs in the Middle East and North Africa that will bolster the new media and networking capabilities of civil society organizations".
Certainly, the U.S is not the only government that is working to integrate Internet Freedom into its foreign policy. More European governments are already following its footsteps, with The Netherlands' and France's Foreign Ministers working on a code of conduct on Internet Freedom and planning to hold a ministerial-level meeting next October to work on their plan of supporting "cyberdissidents". "We must support cyber-dissidents in the same way that we supported political dissidents," French Foreign Minister Bernard Kouchner declared.
Furthermore, big American web companies such as Google, Yahoo!, and Twitter are becoming convinced of the value of Internet freedom and their interests is sometimes tending to coincide with those of the U.S administration. Google is now working with U.S. and European officials to build a case that would make Internet censorship a trade barrier. Since his debacle in China, Google has been the most vocal web company about Internet Freedom. "Our goal is to maximize free expression and access to information [...] This is a very important piece of business for us," said Bob Boorstin, Director of Corporate and Policy Communication at Google and former speechwriter for the Clinton Administration.
etween 20 and 22 September, 2010, Google will be holding a conference entitled Internet Liberty 2010 in Budapest, inviting activists, bloggers, NGOs, researchers, governments and corporations representatives.
"The conference will explore creative ways to address the boundaries of online free expression; the complex relationship among technology, economic growth and human rights; ways in which dissidents and governments are using the internet; the role of internet intermediaries; as well as pressing policy and legal issues such as privacy and cybersecurity."
he occasion will be used to launch the "Middle East and North Africa Bloggers Network", an initiative of the Washington based National Democratic Institute for International Affairs (NDI), which is loosely associated with the U.S Democratic Party. The inauguration, on September 23rd, of a "Middle East and North Africa Bloggers Network" by a Washington based NGO, via its Aswat initiative during an event organized by Google and will be attended by U.S and Western governments and corporations representatives is exactly the kind of interference that we need to avoid.
From the Silicon Valley to the White House
The other worrying issue is the "invisible revolving door between Silicon Valley and Washington", if I may borrow the expression from Evgeny Morozov, as many State Department officials are working for Big Web industry, with four Google employees having gone to work in the Obama administration. The most recent example is Jared Cohen, the technopragmatist and specialist on the use of technology to advance U.S interests, counter-terrorism and counter-radicalization, who served as member of the Secretary of State's Policy Planning Staff under both the Bush and Obama administrations, and who has just left the U.S State Department to lead a new division at Google called Google Ideas. Jared Cohen was the same person whointervened in June of 2009 to keep Twitter online and delay its scheduled maintenance work in order to keep Iranians tweeting the post-election protests.
The same Twitter is also looking to hire a government liaison in Washington D.C. whose job it will be to helping Twitter understand what to do "to better serve candidates and policymakers across party and geographical lines". On July 9th, 2010, Katie Stanton, who worked for Google in 2003 and for the Obama administration as "Director of Citizen Participation," in 2009, has joined Twitter where she will be working on international and business strategies.
As expressed by Jared Cohen during his talk about the State Department's use of new technologies and innovation in the practice of diplomacy:
"every single university, every private sector company, is de facto a think-tank and a strategic partner on technology and innovation and how to be relevant or applied for foreign policy [...] they just need to raise their hand and say "we want to get involved".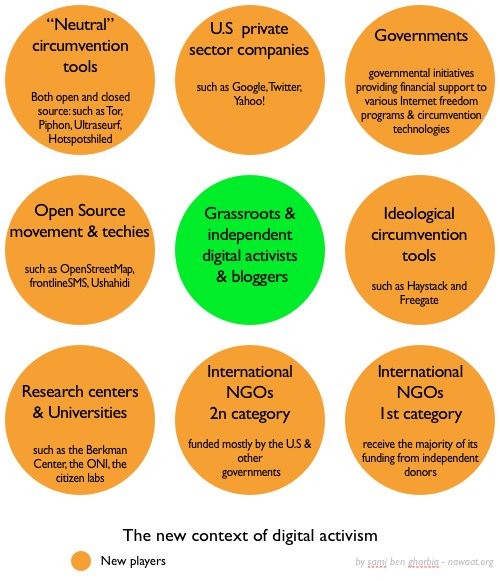 The new context is that digital activists, especially in the Middle East, are getting increasingly more attention from several U.S public agencies, associated NGOs, research centers, universities, and Web companies. Many activists and bloggers from the Arab world have been helping research centers, such as the Berkman Center, in translating, navigating, understanding and mapping the Arab web and blogosphere. The most relevant example here could be the Iranian blogosphere map and the Arabic blogosphere map, both produced by John Kelly and Bruce Etling from the Berkman Internet and Democracy project which is sponsored through a grant of $1.5 million from the US Department of State's Middle East Partnership Initiative.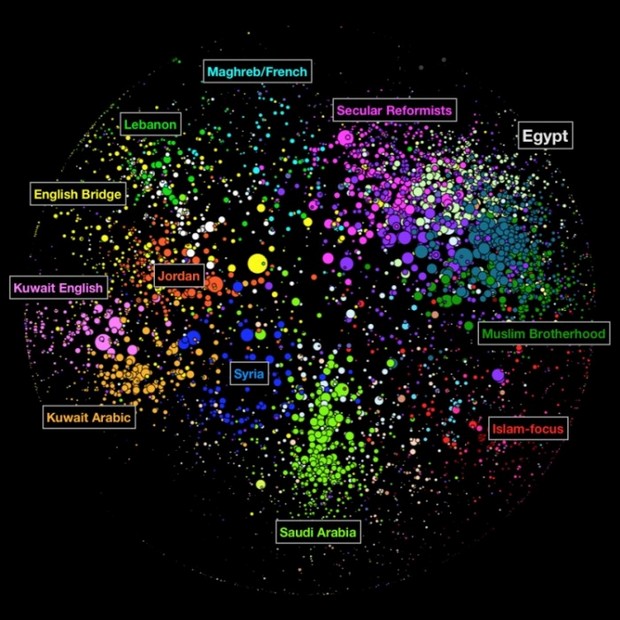 Map of the Arab blogosphere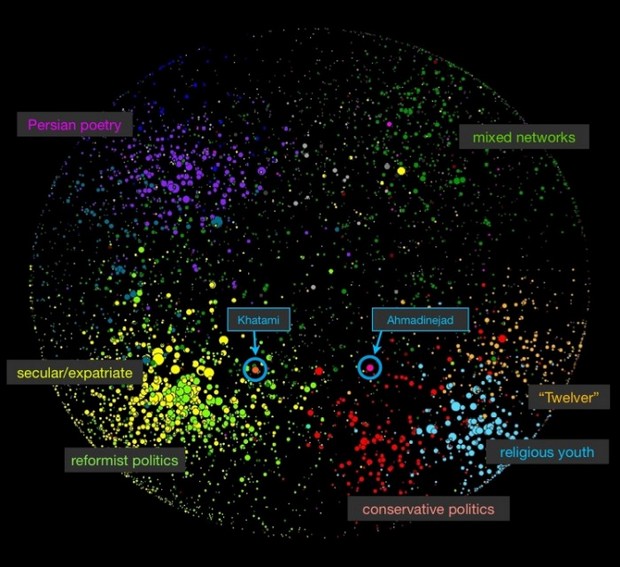 Map of the Iranian blogosphere

If we take a closer look at the framing and labeling used by this research we will notice a visible focus on the understanding and mapping of "extremist", "terrorist" and "Islamist" voices in the Arab blogosphere. John Kelly, the affiliate at the Berkman Center for Internet and Society at Harvard Law School who was involved in the mapping of Arab and Persian blogosphere, acknowledged in an email responding to criticism expressed by some Arab bloggers toward the map:
"we were writing something that will be read by a policy-oriented DC crowd, among others, parts of the study are naturally in language that is keyed to the debate as it happens there".
alking about mapping bloggers' networks during a conference at the U.S. Institute of Peace on January 8th, 2009, John Kelly insisted on the need to "think about nurturing and shaping these networks when they are small, as they grow very large very fast". All this of course is aimed to shape the development of online media to promote U.S. public diplomacy.
When the U.S Senate passed the Victims of Iranian Censorship (VOICE) Act authorizing $30 million to the Broadcasting Board of Governors to expand Persian-language broadcasting into Iran and counter Iranian jamming efforts, $20 million for the "Iranian Electronic Education, Exchange, and Media Fund," that will help Iranians bypass Internet censorship and share information online, and $5 million for the U.S State Department to document human rights abuses that have taken place since the 2009 election, my dear friend Rob Faris, Research Director for the Berkman Center reportedly declared "You are engaging in cyberwarfare, on the side of the good guys." The fact that our friends from the Berkman Center are adopting the rhetoric of "good vs. bad guys" shows the danger of this very new context whose boundaries are blurred.
Being increasingly more aware of diplomatic games
The most alarming development, in regard to this matter, is to put the knowledge and data gathered in part by global grassroots activists and bloggers, via their collaboration with U.S research centers and NGOs, into the hand of the policy-oriented DC crowd to foster U.S interests or cyberwarfare in the world.
When we see people like my friends John Kelly and Ivan Sigal, Global Voices executive director, taking part in a conference at the U.S. Institute of Peace on January 8th, 2009, with CENTCOM commander Gen. David Petraeus, and many other U.S officials, and sharing their knowledge about the blogospheres and the role of social media in the region while the event is largely focusing on finding "nonmilitary solutions" to critical foreign policy challenges facing the U.S administration, we simply don't know any more how the knowledge that is being generated by bloggers, volunteers authors and activists is being used and for what purposes. Thepresence of my dear friend Ethan Zuckerman at a conference on cyberdissidents organized by George W. Bush Institute, even if Ethan has a different political stance, was also perceived by many as a bad move.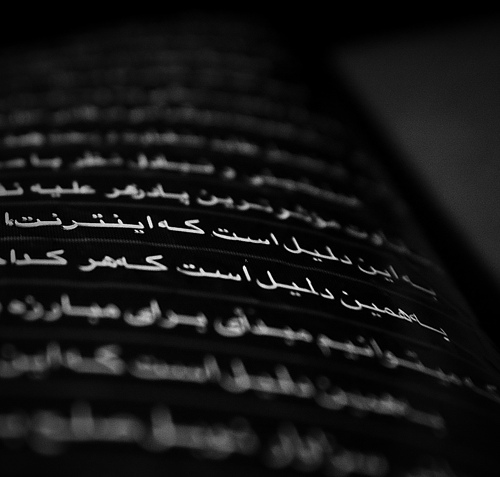 And this is what makes the situation difficult and uncomfortable for all of us. While it is very normal and usual for a U.S citizen to attend such an event and even collaborate with his government or testify at congressional hearing and deliver his expertise, for non U.S activists, it will be much more difficult to accept collaborating with NGOs, research centers or circumventions tools providers/promoters that are sponsored by the U.S government or are sharing their knowledge and data with U.S policymakers, military commanders, Intelligence community and the like. in Such, every step taken in the direction of a closer collaboration with the U.S government will ultimately weaken the U.S research centers and NGOs position in the global Internet Freedom field.
I'm not questioning here the right of the U.S or any other regime to use Internet freedom as a tool for diplomacy or as a blunt regime change medium that serve its own interests; this is what politics is all about. But, in this new context marked by governmental and private efforts to adopt the Internet Freedom as a foreign policy tool, whether through researching, mapping, translating, supporting, or funding, digital activists in the Arab world may need to be more careful and skeptical about how to deal with this space and rethink with whom they can best work and collaborate. So now, when we want to collaborate with a research center or an NGO to answer a survey, or collaborate in a crowdsourcing project, or help translate a text or a tools, or provide insight about the context of certain topics, or recommend activists and bloggers to attend a conference, we may ask ourselves if we are not in fact collaborating with the U.S government via those "proxies".
.
—
Read the second part of this article.
This article was originally published by Nawaat.
Edited by: Fausto Giudice
Photo Credits CC Nawaat et FlickR (megaul, altemark, kinitta)