"Young web genius." "Suspected of involvement in international cyber attacks." "Passionate about computers since he was 6 years old." "The brains behind the WikiLeaks avengers." In recent days, there has been a media frenzy around a 15 year old boy from Auvergne and his involvement in the pro-WikiLeaks movement. This last December several major banking companies, such as Visa and Mastercard,  decided to cut their services for Julian Assange's website. The aftermath was entirely unexpected; an "Anonymous" user launched a massive denial-of-services attacks (DDoS) which which paralyzed these companies' websites.  Apparently, this teenage French hacker coordinated these massive attacks from his family's computer "in the middle of dirty socks and t-shirts."
Does this ring a bell? In March another young hacker from Auvergne, François Cousteix (online known as Hacker-croll), was arrested for attempting to hack into the  Twitter account of Barack Obama. While FBI agents were intensely combing through The Clermont Ferrand valley, the prosecutor tried to deflate the situation. "He is not a pirate, the costume is too big for him," he said.
In a media environment which is buzzing with the "mysterious Anonymous," there is a fascination of secrecy which is entangled in a traditional analytical framework. For example, every significant movement should have a leader, and the Anonymous should not be an exception to the rule. This sentiment was asserted by a journalist from Figaro, who is a a member of the Groupe de contrôle des fichiers de police et de gendarmerie (The  organization for monitoring of police files). This organization is headed by Alain Bauer, well known for pro-security policies (which are far from anonymous). Evidently, the Internet web has not revealed all of its secretes to journalists despite their desire to seek them. Maybe this is because people aren't asking themselves the right questions, such as how this young man was caught. Even though LOIC (Low Orbital Ion Cannons) software permits DDoS attacks in two clicks, it still has the vulnerability of revealing the users IP address.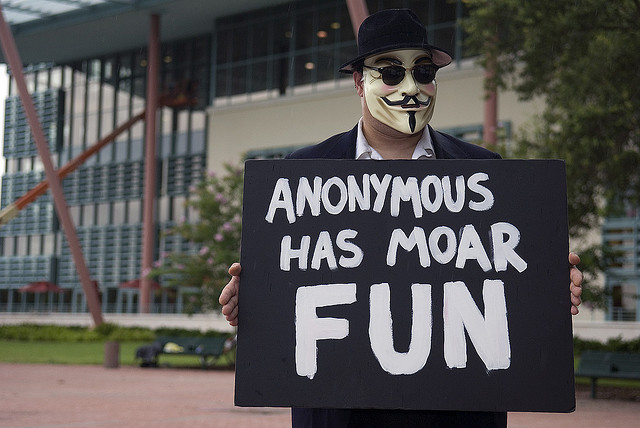 "A select few control the infrastructure"
According to Gabriella Coleman, Anthropology professor at  New York University and a specialist in this phenomenon, we must "Beware of sensationalism and mythology." She believes that this overly attributed  appreciation stems from "being in the moment of the decade, and this should persist much longer." Thus is it increasing necessary to examine this case study as it focuses on a specific instance of masked avengers transformed by the web.
The Anonymous group is not a very structured group, but that does not mean they don't have defined roles. In an interesting article by Coleman published back in December, she gave an in-depth analysis of Operation Payback. She stated that some of the users have technical roles and control the infrastructure and IRC servers (The Internet Relay Chat, which is a real-time messaging service to plan and coordinate attacks).
Along with IRC, Anonymous have also made ample use of collaborative writing software, in this case Pirate Pad (which rose from the ashes of Etherpad) and do so to coordinate actions, pick targets, and write manifestos. If IRC is where the cacophonous side of Anonymous is most clearly manifest, then the documents and conversation on Pirate Pad reflect a calmer, more deliberate and deliberative side of Anonymous, where participants offer arguments that are picked apart or supported through reasoned debate.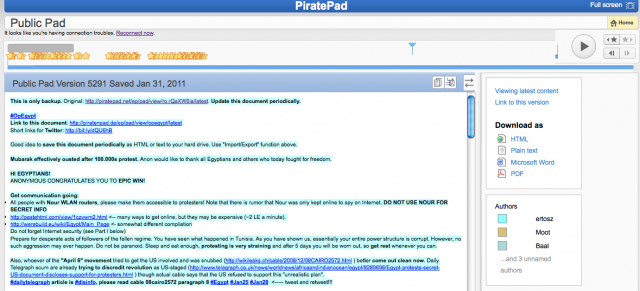 Sophisticated politics
Why exactly is there a renewed interest in Anonymous? Especially when the last attack was back in 2008 again the Church of Scientology? In deciding to defend WikiLeaks at the very moment the heat was on Julian Assange and his organization, it gave an entirely new dimension for Operation Payback which was launched against America's beneficiaries. Furthermore, this group have continued to play their game during the Arab uprising in Tunisia and Egypt. Gabriella Coleman sees a phenomenon of diversification:
The Anonymous are more politically sophisticated than before. They have gone from trolls to an army. The users of 4chan( the image board where the movement started) is no longer the only one, there is also Boing Boing and other local activities.
Finally, the best way to understand the presence and actions of the Anonymous is to look at the high number of invisible soldiers instead of just the one case of the 15 year-old teenager. Coleman estimates that there were several thousand of them at the height of Operation Payback. Today in the midst of Cairo and Tunis, 252 channels on the IRC servers contain about 365 to 400 people.
__
Photo credits: Flickr CC Anonymous9000, Ben Fredericson