The conventional stereotype of a hacker is a young white nerd tapping away behind a glowing computer screen, busy with malicious activities like pirating debit cards. At best, thought of as coding day and (mostly at) night, with a lukewarm pizza by his side.
Such an image is contrary to the diverse identities that rally behind the term hacker. Currently writing his thesis in Information Sciences at Tampere in Finland and founder of 5w, Jarkko Moilanen conducted a study to make out more precisely the constituents of this community of "peer-production."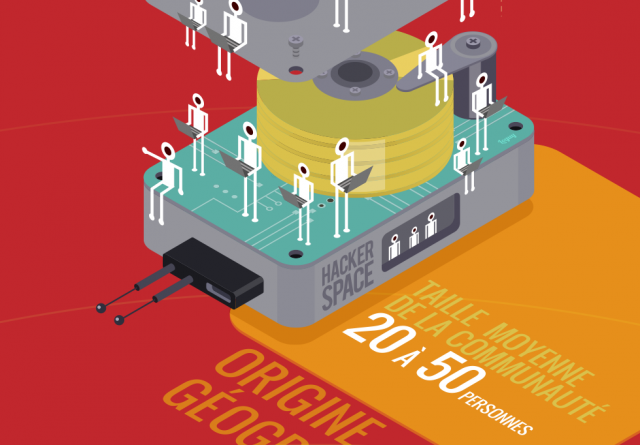 Creating hacker / space-makers in many countries has provided an infrastructure that could be considered a return to "old school" hacking – the software is not king. This new "Do it yourself" culture is multifaceted: HackerSpace, makerspace, fablab, 100k garage to name a few. You can read more in the article by Troxler [PDF].
After an initial study in 2010, Jarkko repeated the experiment with a few additions. The questionnaires were sent during the second half of June, via discussion lists, hackers, and group DIYbio (bio-hackers) hackerspaces to avoid skewing the results as would have been the case using social networks, more open in nature. He received about 250 responses from 87 communities in 19 countries: Alpha One Labs (Brooklyn, USA,), ArchReactor (St. Louis, USA), ATX HackerSpace (Austin, USA), Brmlab (Prague, Republic Czech Republic), Mode 5W (Tampere, Finland), Hack42 (Arnhem, Holland), hacklab.to (Toronto, Canada), BreizhEntropy (Rennes, France), CCCKC (Kansas City, USA), CCC München (Munich,Germany), HackerSpace Brisbane (Brisbane, Australia), HAL9k (Aalborg, Denmark), Hacklab Helsinki (Helsinki,Finland), Hackspace London (London, Great Britain), Midsouth Makers (Memphis, USA), Noisebridge (San Francisco, USA), etc… This is only about  a fifth of the total if we refer to the collaborative map from hackerspace.org. About 500 hackerspaces exist, compared to the 200 first-round responses. Despite the small sample, the results are worth taking a look at until studies are conducted on a larger scale. Jarkko expressed overall satisfaction:
"The results reflect the conclusions made by other researchers. I received an e-mail from another researcher, who indicated that we had both obtained similar results. However, the results should be considered with caution as they are preliminary."
Google Docs raise questions
The principle limitations were the format of the questionnaires. It proved itself to be a philosophical choice:
"Like last year, the study was conducted using Google Docs. This was critiqued and I admit, critiqued justly. Conducting studies with tools that certain hackers consider at the very least 'unjust' isn't a good thing. Certain hackers didn't respond to the study for this reason alone. In the future, such studies should be conducted using other tools: open source solutions."
In addition, Google is not easily accessible in China – not to mention other countries – which distorted the results of geographical origin. Another limitation was the choice of using English as the single language. The results support the collaborative hackerspace's map also shows a strong concentration in North America and Europe. That said, the lack of Internet access in some countries is another valid critique.
According to Jarkko, the study was well received: "I got positive feedback. A hacker in Paris invited me to France for a short presentation and to discuss the results. Apparently there is no large resistance to my research, since hackerspaces.org/wiki still contains links to them
The silence is consent. "
Here's a synthesis of the study in the form of an infographic lovingly developed by our favorite artistic director, Loguy. Some results are predictable, such as the average age of members and the large proportion of men. However, one statistic jumps out at me: 85% of hackers were favorable to corporations financing their communities with donations of equipment – one would think that hackers would be opposed with their proven mistrust. It's also interesting to note that questions of security are no longer in the top three central interests for hackers.
[Editor's note: Drag your mouse over the infographic to read the translation.]