After repeated interrogations lead by Reflets.info, OWNI, the Wall Street Journal and the Figaro, Amesys, the French company that sold Internet surveillance systems to Gaddafi's Libya tried to calm things down with a statement posted on its website (mirror):
The contract only concerned the sale of materials capable of analysing a fraction of existing internet connections, only a few thousand.
However, the documents in OWNI's possession tell a different story, in fact, the exact opposite story. In contrast to traditional surveillance systems that target specific connections, the "massive" (sic) Amesys surveillance system is used to intercept and analyze the entirety of the telecommunications network, to the scale of an entire country.
In its presentations for the high-end surveillance service, Amesys flaunts EAGLE as having been conceived to monitor the whole spectrum of telecommunications: IP traffic (internet), mobile and landline telephone networks, WiFi, satellite, radio and micro waves thanks to its "passive waves, invisible and inaccessible to any intruder."
The massive system (EAGLE GLINT, GLobal INTelligence, which was the system sold to Libya), was conceived to respond to interception and surveillance needs at a national level and to be capable of aggregating all kinds of information and analyzing, in real time, a national data flow, from a few terabytes to a few dozens petabytes [1 peta-octet = 1024 tera-octets, 1 tera-octet = 1024 giga octets and that the total amount of everything ever written by the human race in all languages is estimated at 50 peta-octets...]
EAGLE is therefore able to aggregate, in an automatic fashion, email and physical addresses, telephone numbers, photos of suspects, but also to make automatic searches by date, hour, telephone number, email address, keyword, localization…
EAGLE "regroups all intercepted data in a single data center, which enables you to obtain a clear idea of your target's different activites," to geolocalize them, to graphically reconstitute their social networks, to analyze their semantics, to retranscribe and translate automatically telephone conversations…
Amesys adverstises itself as being able to treat Arabic as much as Croatian, Farsi, French, Japanese, Tamoul, English (British, South American and American), Spanish (Caribean or not), and even Mandarin.
Amesys allows you to search in the digital tsunami with a welcoming graphic interface. The totality of technological complexity is not your problem. EAGLE investigators are network engineers.
The EAGLE GLINT terms of service, which OWNI succeeded in procuring, details that "the system will recuperate all data, and attached files, associated to the following protocols:"
Mail (SMTP, POP3, IMAP), Webmails (Yahoo! Mail Classic & Yahoo! Mail v2, Hotmail v1 & v2, Gmail), VoIP (SIP / RTP audio conversation, MGCP audio conversation, H.323 audio conversation), Chat (MSN Chat, Yahoo! Chat, AOL Chat, Paltalk, NDLR), Http, Search engines (Google, MSN Search, Yahoo), Transfers (FTP, Telnet).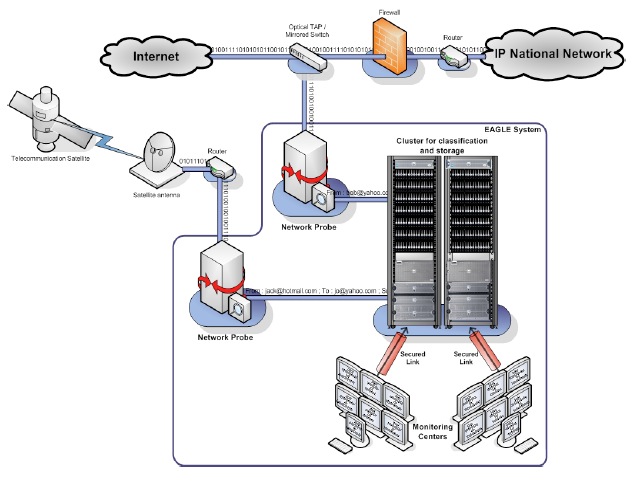 A search engine that uses text allows one to "minize the time required to find valuable information, and increases the number of desired information sources that can be consulted." It is also possible to search using telephones numbers, email addresses or service provider names.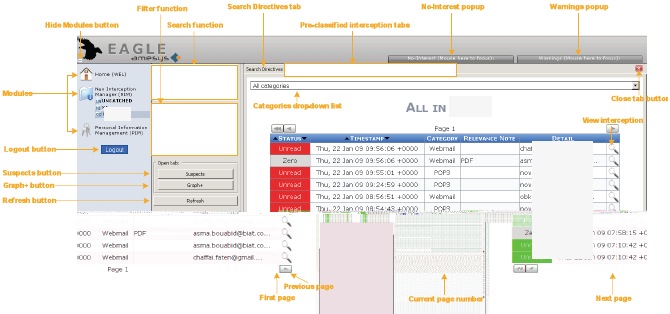 Finally, a graphic interface visually represents "suspect" connections, who are identified by their names, surnames, aliases, mother tongue and email address.
Amesys Eagle Operator Manual Copy

Update: the monthly Siné, Karl Laske, a journalist at Mediapart, published an extract of a contract signed by Amesys in May 2006 that was introduced in Libya by "the arms merchant Ziad Takieddine, and pushed by Claude Guéant and Brice Hortefeux" and which specifically cites "monitoring all forms of communication (…) e-mail, chat, websites and vocal calls" :
Philippe Vannier – then owner of i2e, now Amesys– had proposed the interception system to Libyans as early as 2006. The country delivered its personal copy of spy state software for 26,2 million euros.

Altogether, a massiver internet survaillance system was billed at 12,5 million euros, a portable telephone tapping system (Legal GSM Interception), and a communication encryption system (Cryptowall) were all furnished by Amesys to Libya.
Le Canard Enchaîné confirms that "French secret services helped Gaddafi spy on Libyans: on Sarkozy's request, agents of the DGSE supervised the installation and optimization of the electronic espionage equipment sold to the Libyan colonel by multiple French industries" :
"Gaddafi wanted to monitor his population, to detect those who resisted him and their accomplices. He presented his case (to the concerned industries) as wishing to protect himself from American spies." And the same officer added that "Libya is an interesting laboratory" to show off to other potential clients, AKA dictators who may be interested.
Four companies, writes Le Canard, have exported the materials used for Libyan monitoring. Amesys, US company Narus, Chinese ZTE Corp, and South-African VASTech for its "illegal connections" :
As if this weren't enough, emissaries met with representatives of Amesys and Narus on February 2011 in the hopes of obtaining more surveillance technologies in real time.
Le Canard also points out that "the equipment sold to Gaddafi allowed him to collect and archive, each month, the contents of 30 to 40 million minutes of telephone communication," and that "100 000 internet users were until permanent surveillance."
A figure that will most likely quadruple: according to the CIA World FactBook, Libya had around 359 000 internet users in 2009
---
Find all of our articles on Amesys
here
. A special thanks to 
Olivier Tesquet
for his previous help.
To contact us securely and anonymously, in complete confidentiality, do not hesitate to use the privacybox.de : @owni and/or @manhack and/or @oliviertesquet. If your message requires a response, please make sure to leave a valid, anonymous e-mail address.