Today Wikileaks releases nearly 1,100 internal documents, sales brochures and manuals for products sold by the manufacturers of systems for surveillance and the interception of telecommunications.
These new leaks reveal a mass surveillance industry that's now worth $5 billion a year, with technologies capable of spying on every telephone and Internet network on a national scale. The flagships of this market are called Nokia-Siemens, Qosmos, Nice, Verint, Hacking Team, Bluecoat and Amesys. The documents detailing their interception capabilities will be progressively released online by Wikileaks.
OWNI, who worked in partnership with the Washington Post, The Hindu, L'Espresso, the German channel ARD and The Bureau of Investigative Journalism in this operation which has been dubbed the Spy Files, has attempted to present an overview of this new type of industry, by creating an interactive map and a dedicated site, SpyFiles.org. Andy Mueller-Maguhn, former spokesman for the German Chaos Computer Club (the most influential group of hackers in the world), is also associated with this investigation, to which he has devoted a site, BuggedPlanet.info.
To date, we have documented a total of 133 of these surveillance weapons dealers, including 36 in the United States, 18 in the United Kingdom, 15 in Germany, 11 in Israel and eight in Italy. As with "traditional" arms dealers, most of them are located in rich and democratic countries. 12 of the 26 countries documented are also part of the European Union, which accounts for 62 of these companies.
87 sell tools, systems and software for monitoring the Internet, 62 for telephone surveillance, while 20 are for spying on SMS messages. 23 are involved in speech recognition, and 14 with GPS geolocalisation. Seven of the companies are also involved in the area of "cyber-war offensives", selling Trojans, rootkits and other backdoors used to take control of computers remotely and without the knowledge of their users. These spy systems are distinct from those used by ordinary hackers in that they could not be identified by the "majority" of antivirus systems and other computer security solutions.
In Western democracies, the marketing and use of these systems of surveillance and interception of telecommunications is strictly controlled. There is nothing, however, to prevent their sale to countries with weaker restrictions, including to dictatorships. Although these tools are designed for espionage, they are not considered weapons. As such their exportation is controlled by national, European or international laws. Whether or not this business is moral, as things stand it is completely legal.
Arms dealers are working hard to exploit this loophole, as recognized recently by Jerry Lucas, the organizer of Intelligence Support Systems (ISS), the international expo that every two or three months brings together communications interception professionals:
The surveillance systems that we discuss in our seminars are available all around the world. Do some countries use them to suppress certain political statements? Yes, probably. But it's not my job to sort out who are the good and bad countries. That's not our business, we're not politicians.

Our business is to connect those who want to buy these technologies with those who sell them. You can sell cars to the Libyan rebels, and those cars could be used as weapons. Should General Motors and Nissan ask how their vehicles will be used? Why don't you go asking questions to the car companies? It's the free market. You can't stem the flow of surveillance equipment.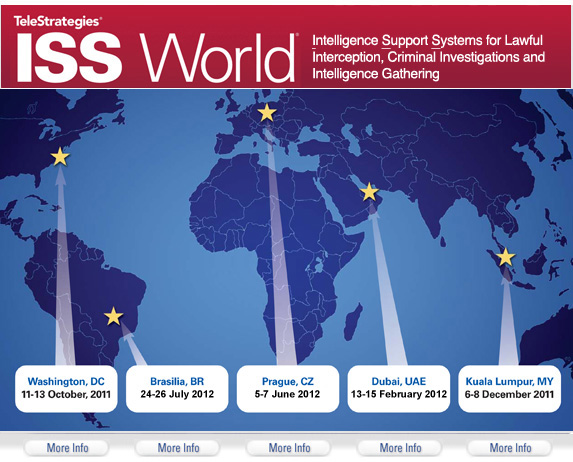 Interviewed by the Wall Street Journal, Klaus Mochalski, co-founder of Ipoque, a sector leader, admitted that "it is a dilemma, both moral and ethical, which we are constantly faced with. It's like with a knife. You can use it to cut vegetables, but you can also use it to kill your neighbor." Except that these tools are not freely available in any store, and the companies who market them don't promote them on TV or at corner markets, but only at expos involving arms dealers and customers with the power to buy them.
ISS forbids journalists from attending its expos, and even to enter the conference centres. At the recent Milipol expo held in Paris last October, it was astonishing to visit the many stalls present that specialized in surveillance technologies. Representatives of the former were much more cautious than traditional weapons dealers when it came to answering questions from reporters.
Contacted by OWNI, Amesys, the French company that sold an extensive Internet interception system to Gaddafi's Libya, distanced itself from its "client":
Amesys is a manufacturer of equipment. The use of the equipment it sells is exclusively the responsibility of its clients.
Thibaut Bechetoille is the CEO of Qosmos, another French company which equipped Libya's Big Brother operation. Their equipment is currently being used by the Syrian regime. Mr. Bechetoille offered a pitiful explanation to Bloomberg, claiming that Qosmos' administrative board had in fact decided to cease its activities in Syria, but that it was "technically and contractually" complicated to do so.
To date, four other Western companies have been identified as suppliers of surveillance equipment to Syria. Area, an Italian company, sent in emergency teams to help the Syrian intelligence services to identify dissidents; Utimaco, a German subsidiary of the British antivirus company Sophos, was not aware that Area was using these systems in Syria; Nokia Siemens in Germany, whose Internet surveillance equipment was sent to Syria via neighboring Iran; and Bluecoat, a US company to which the site reflets.info has devoted numerous recent articles.
We have known for some time that these surveillance weapons were used in China and Iran in particular. But it was not until the Arab Spring, and the evidence left behind by these mostly Western surveillance merchants in Tunisia, Egypt, Libya, Bahrain and Syria, that we have been able to get a full sense of what had been going on.
Almost all of these surveillance weapons dealers pride themselves on dealing with matters of "lawful interception", and boast of working with defense and interior ministries, or intelligence services. The German company Elaman sets out in black and white the fact that these systems allow the user to identify "political opponents":
In telecommunications, the concept of "data retention" generally involves the storage of all information (numbers, dates, times, locations, etc..) related to telephone or Internet traffic. The stored data is generally made ​​or received phone calls, emails sent or received, websites visited and location data.
The primary objective of data retention is traffic analysis and mass surveillance. By analyzing the data, governments can identify the location of an individual, of those connected to him and group members, such as political opponents.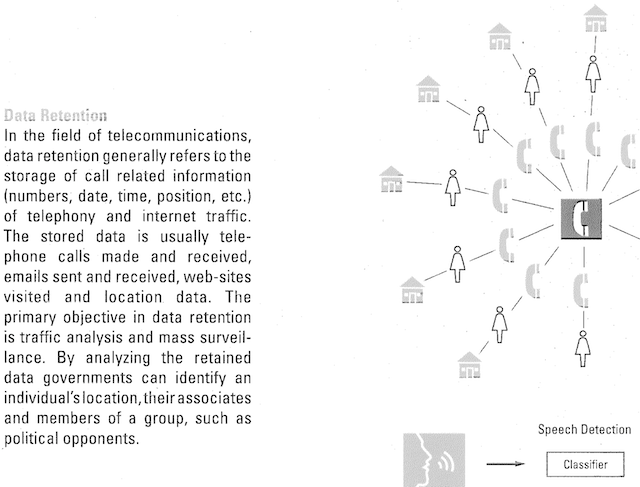 Originally developed to allow intelligence agencies to spy illegally, these systems, tools, software and other "gadgets" are designed for listening, watching, spying, tracing or geolocating someone without their knowledge. Today, a considerable market has been created around their sale and purchase. When asked by the WSJ, Jerry Lucas, the organizer of ISS, explained that, from virtually zero in 2001, today that market is worth close to $5 billion in sales per year.
________________________________________________________________________________________________________________
---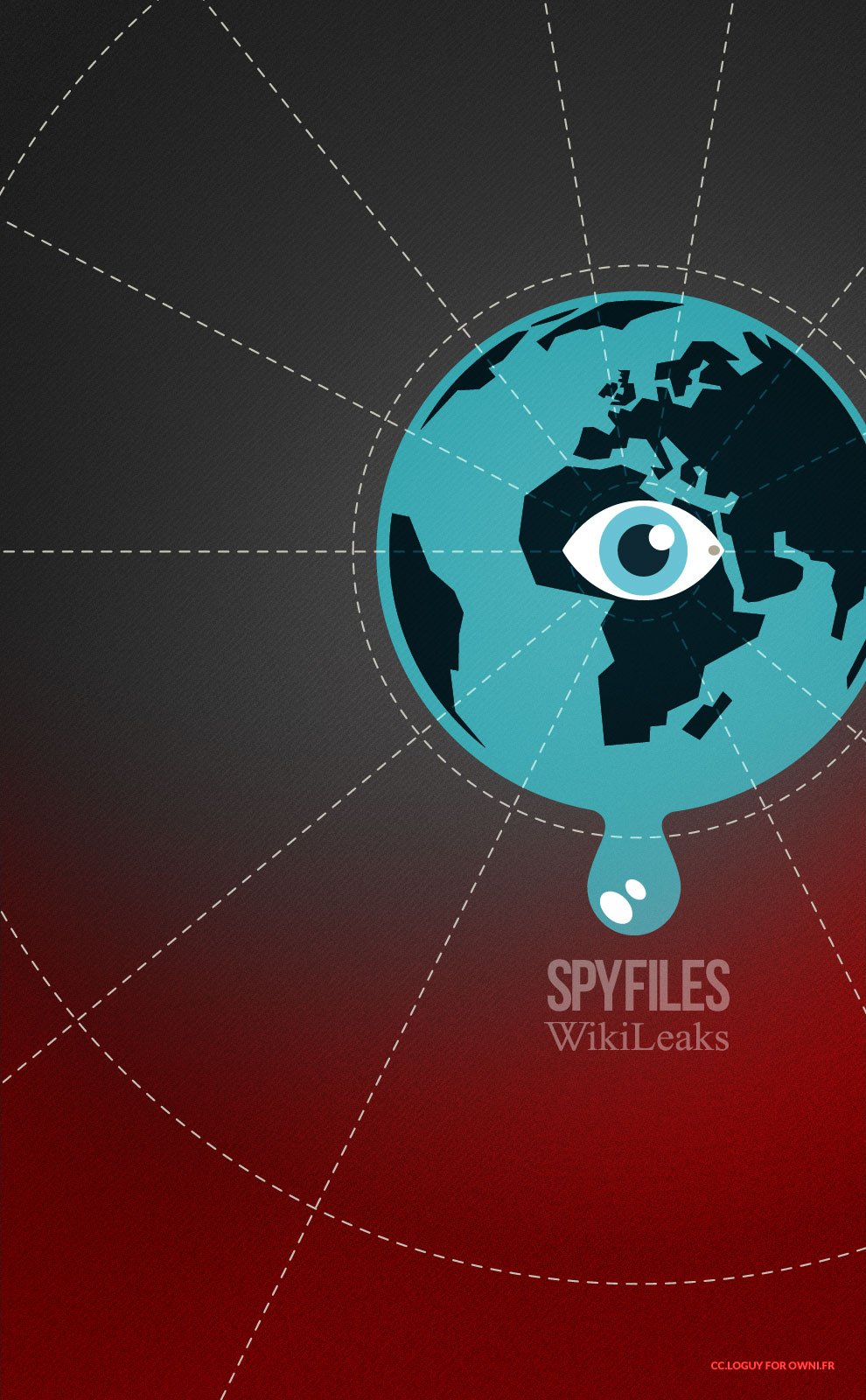 Follow OWNI's coverage of the Spy Files
- Exclusive: How Gaddifi Spied on the Fathers of the New Libya
- Interactive Map: The United Nations of Surveillance
- Read more articles about Amesys.
________________________________________________________________________________________________________________
---
@manhack (on Twitter), jean.marc.manach (on Facebook & Google+)  .
You can also contact me securely via my GPG / PGP key (which, for the uninitiated, is not very complicated). If not, and to contact me anonymously and confidentially, you can also go through privacybox.de (do not forget to leave me a valid – but anonymous – email address – so I can reply to you).