Mike Tassey and Rich Perkins are heavy-duty hackers, the kind who give presentations at BlackHat or DefCon, some of the biggest annual pilgrimages in the hacking calendar. Last year, they presented their project Wireless Aerial Surveillance Platform (WASP), a DIY drone for cyberwar, at the Black Hat conference. This spy plane is capable of intercepting communications shared over Wi-Fi and stealing data contained within. In keeping with the ethos of the good hacker, their goal is not to land a jail sentence but to point out potential security vulnerabilities. They explained as much in introducing their talk at Black Hat:
What could a low, observable, autonomous aircraft carrying 10 pounds of cyber-attack tools do to your organization's networks, your nation's critical infrastructure, or worse if it were carrying something unspeakable? What would that do to expectations of public safety?
After video-surveillance cameras, drones are the latest technology to be appropriated by activists, hacktivists and indeed artivists, those who use artistic expression to deliver a political message. Once again the watchmen are finding themselves becoming the watched.
The first such citizen drone project dates back to 2004, according to Konrad Becker, an Austrian artivist involved in the Netbase project. It's code name is S-77 CCR, for System 77 Civil Counter-Reconnaissance. Its slogan - Eyes in the sky, democracy in the street – sums up a political message.
To allow for equilibrium of skills in surveillance and a broad education of the public in control technologies, access to a technology for the people seems necessary.
It was first deployed in public in May 2004, in Vienna. "We needed a 'proof of concept'," recalls Konrad Becker. "At the same time we managed to attract the attention of the police and the media…" As a result of that attention, the S-77 CCR project was subsequently continued in secret by Marko Peljhan, a Slovakian who co-founded one of the first media labs in Eastern Europe.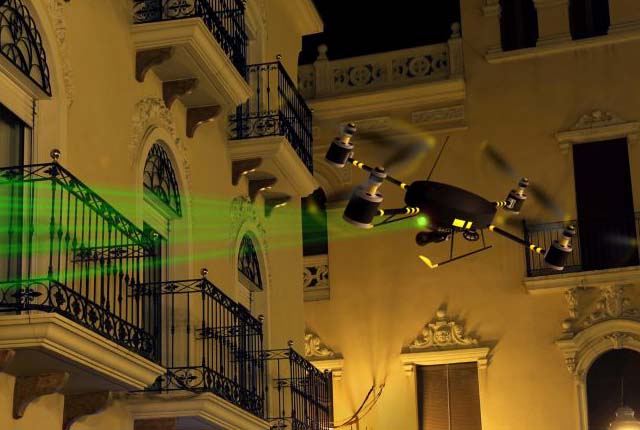 Occupy the sky
The Occupy movement has been involved in a game of cat and mouse with the police who closely monitor their protest camps. Lat November, following the police raid on the Occupy Wall Street camp at Zuccoti Park, an Occupier by the name of Tim Pool released the protesters' latest secret weapon. The Occucopter is a Parrot AR drone equipped with a camera and controlled by iPhone. Tim hacked the software so the user can broadcast live images on the Internet.
The idea was suggested to him in early 2011 by Geoff Shively, a gifted teen hacker in the 90's who eventually founded a security software company at the age of 21. Tim explained his motivation:

[This] comes back to giving ordinary people the same tools that these multimillion-dollar news corporations have. It provides a clever loophole around certain restrictions such as when the police block press from taking shots of an incident.
While the machine needs improvements, it has attracted attention. "I received a lot of questions and helped many people to set up a live broadcast using the drone", explains Tim. Hackers, naturally, were drawn to the topic, especially at the Noisebridge hackerspace in San Francisco. They've set up a documentation page, and some enterprising individual has even managed to create a model drone using a 3D printer.
Meanwhile, Tim continues his research: "I don't think they'll become as common as cell phones but we're working on making the dronestream (sic) very cheap, so that everyone can get one."
Drone journalism
In November video also surfaced that had been recorded by a device called RoboKopter, which had flown over a protest gathering in Warsaw, Poland. The RoboKopter device was being controlled by an activist at the demonstration. To date it has been viewed over 650,000 times on YouTube.
Traditional media outlets were quick to use the images of the Polish demonstrations. Matt Waite, journalist and researcher at the University of Nebraska, is interested in the links between drone activism and drone journalism. His site, the Drone Journalism Lab, is dedicated to studying the viability of remotely piloted airborne media.
There are people who are not journalists who are doing things that seem awfully similar to journalism, it is not hard to make the link. First there were the riots in Poland, then the protests surrounding the elections in Russia.
The blurring of boundaries between citizens and journalists that occurred with the advent of smartphones might well be repeated with drones, at least in terms of providing raw footage. Tim Pool, creator of the Occupcopter, is himself a freelance journalist.
These drones are adapted from cheap old technology, says Matt Waite. "Editors have long been using helicopters and fixed wing aircraft for important events. To own or rent one of those is expensive." A drone represents "a cost effective way to get unique and attractive multimedia content."
In Australia, a young Chinese immigrant named Justin Gong has founded a company, XAircraft. He claims his product has attracted huge interest from an Australian television network, and a number of media outlets are already using it.
But for the moment the technology is still in need of improvement, as demonstrated by a failed attempt by Australian journalists to film the immigrant detention centre on Christmas Island. On that occasion, the device ended up in the sea. Matt Waite is aware of these limits.
These quadracopters and hexacopters can fly for around 15 minutes, while military drones are of much higher quality. So how effective are they? Not massively. There is not enough flight time and stability to satisfy our curiosity. They crash a lot and they break easily. They're not stable enough to fly safely around people. But I think that's temporary. The technology is advancing so quickly that these defects can only improve.
Question marks also surround the legality of such practices. In the United States, it is forbidden "to fly above 400 feet (120 metres), hidden from view, around people, and flights can't be for commercial purposes," explains Matt Waite. A balance will have to be struck between the security of facilities and freedom of information.
Eco-drones
The activist group Sea Shepherd, often at the forefront of innovation, have recently used a drone to assist in their efforts to protect marine wildlife.
On December 24, the Steve Irwin, one of the Sea Shepherd ships, deployed a drone in order to locate and photograph the Nisshin Maru, a Japanese factory ship. Success! [...] Thanks to the two drones sent out by the Steve Irwin and the Bob Barker, we discovered the position of the Nisshin Maru and monitored its course; the information was then transmitted to Sea Shepherd ships.
One occupational hazard that operators of drones are discovering is hunters. In the United States, a drone that was filming a pigeon hunt was itself shot down. Next step – armored drones?
Drones for peace
Drones in demonstrations, drones to save the whales…and drones to save humanity. Last month, Andrew Stobo Sniderman and Mark Hanis, the founders of the NGO Genocide Intervention, wrote an opinion piece in The New York Times entitled "Drones for Human Rights".
It's time we used the revolution in military affairs to serve human rights advocacy. With drones, we could take clear pictures and videos of human rights abuses, and we could start with Syria.
Another advantage, they argue, is that the images could be used by diplomats from the UN or at trial as evidence. And if this is a violation of sovereign airspace? "It may be illegal in the Syrian government's eyes, but supporting Nelson Mandela in South Africa was deemed illegal during the apartheid era."
Of course the use of drones could be exploited by the Syrian regime, who might cry 'foreign conspiracy' and use it to further suppress dissent. So for now, the NGO's remain timid.
Such considerations figured in conversations we have had with human rights organizations that considered hiring drones in Syria, but opted in the end for supplying protesters with phones, satellite modems and safe houses. For nearly a year now, brave amateurs with their tiny cameras arguably have been doing the trick in Syria. In those circumstances, the value that a drone could add might not be worth the investment and risks.
Referring once again to the potential of the devices, they conclude bluntly:
If human rights organizations can spy on evil, they should.
"Temporarily augmented zones"
Lot Amoros is a Spanish artist, who describes himself as a "computer engineer and a transdisciplinary anti-artist". His GuerrillaDrone will be used to create "audiovisual interventions in public space using remixed reality", in order to create "temporarily augmented zones," a reference to the temporary autonomous zones (TAZ) of Hakim Bey. Everything is done with free software and hardware, thanks to the ArduCopter project, using Arduino.
His message is in the tradition of his Austrian predecessor, while he also draws inspiration from the artvertiser, a project to reappropriate urban advertising in the form of augmented reality.
GuerrillaDrone aims to explore new uses of the air as a medium of expression, to anticipate the questions that modern society will face in the decades to come: the presence of robots in public spaces and in the public air space.

The "right to fly" inherits many of the ideas of the Reclaim The Spectrum movement: "those who claim the spectrum [radio-electric] are anticipating a political and social debate that was deprived of the twentieth century but can't be postponed in this century." We as citizens demand the use of public air: the medium is the message. If power is becoming more dehumanized with control machines, technology reacts by reinventing anti-establishment devices.


GuerrillaDrone tries to reverse the logic of the panopticon as an opaque control system by extending the possibilities of direct actions or performances with aerial audiovisual support, creating urban screens on any surface.
More surprisingly, he also refers to transhumanism. "The world of drones relates to cybernetic and posthumanist philosophy. The world is going to change very quickly," Amoros tells us. "We have too much power with this technology, nobody can stop them. With 'terrestrial' robotics the human still has superiority over the robots, but with 'airborne' robotics, (the robots) are superior. That's why my blog is called 'Hacked Freedom': the drones have a freedom that legally no one gave them, and nobody can take away."
For Lot, the project is not about a surveillance society, but "the power of drones compared to humans, and the power of technology in the hands of activists and not governments or military."
As such, he's keeping an anxious eye the subject, mentioning the development of drones that kill automatically, without the need for human assistance, or plans to extend their use in Europe. More fuel, too, for the hackers of this emerging technology.
---
Image Credits: Guerilla Drone ©,
The Future of Surveillance
Follow @sabineblanc on Twitter