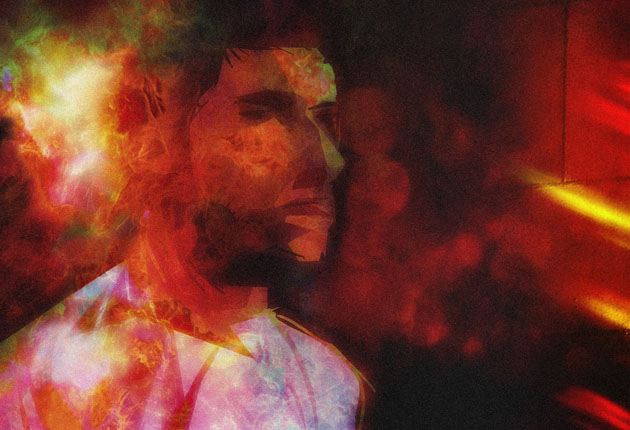 Adlène Hicheur has been released from prison. On the morning of May 15, his probation officer had suggested that his detention could be completed "very soon". That same evening, he was out. He has spent over two and a half years in a pre-trial detention centre in Fresnes, outside of Paris, remanded in custody throughout the duration of his investigation.
A high-level physicist at the European Centre for Nuclear Research (CERN), Hicheur was arrested on October 8, 2009 at his parents' home in Vienne, just south of Lyon. Certain keywords began to emerge in the press: physicist; nuclear; Al-Qaida. Terrorism. Following his detention, Adlène Hicheur was charged with conspiracy in connection with a terrorist enterprise. Of particular interest to investigators were his online activities. From the start and throughout, Hicheur denounced what he argued was a trumped-up case, manipulated for political ends.
He agreed to meet with OWNI to discuss his detention, his relationship with his investigators and the magistrates who presided over his case. He also spoke for the first time about a number of strange aspects of his case, particularly the identity of his mysterious online correspondent, 'Phoenix Shadow'. French anti-terrorism agencies are convinced that behind this online nickname lurked a member of Al-Qaida in the Maghreb (AQIM), Mustapha Debchi. However, evidence for that conviction never appeared in the course of the trial.
Sentenced on May 5 to five years in prison, of which one year was suspended, he has been released on parole. He immediately got in touch with his former colleagues, to avoid "falling into a depression". When OWNI met him, he was attempting to make clarifications to his Wikipedia page. "A life can not be summed up by a news story."
What was your reaction to the judgment?
No surprise. I'd seen how the investigation had developed, I'd seen that they'd made me a scapegoat of a certain policy. It's the paradigm of the scapegoat: you take a person who is symbolically charged and ritually sacrificed before society. I was under no illusions. I just wanted a speedy trial so that the trial detention would end, for my family, for me.
The system wanted to achieve its goal through because it had to send a strong message to society. This mode of governance is very dangerous. I call that safe disposal. It kills the creative genius, intellectual development. Better to raise the spectres than face up to its own shortcomings. The Tarnac people put it very well: fear is the easiest feeling to exploit.
Fear, the unknown, ignorance: the three remain. The sorcerer's apprentices are unable to solve serious problems such as unemployment, but they are the first to brandish the truncheon. My case gives the lie to their pretence to respect the working man. I am the typical example of a hard-working guy, someone who gets up early. My life is destroyed because of things that, in another country, would never have led to imprisonment. That should give everyone pause for thought, even people who aren't of the same political culture as me. It starts with individuals and then spreads to others. It's the logic of a totalitarian system, precisely.
The court also ordered that you forfeit cash seized on your arrest, approximately €15,000, and computer materials.
The seizure of the cash is institutionalised theft, the seizure of my computer material is intellectual assassination. I had hundreds of hours of work on it! Ideas, articles, lectures, scientific data…
You were charged with criminal association in connection to a terrorist enterprise, with financing terrorism and  distributing propaganda, something the prosecutor referred to as "media jihad".
It's really overblown. I have no website, no blog. I was not part of any media campaign, contrary to what was said. I interacted as a user on forums, exchanging opinions. (That claim) from the prosecution is really in bad faith! What do they call media jihad? It's pretty vague…The problem for them is that some groups, let's call them political-military to speak technically, they produce reports on their activities and publish them. This catch-all phrase (media jihad), from what I understand, would implicate anyone with access from one moment to the next to publications from these media outlets.
Is it that translating this kind of publication while citing the source constitutes media jihad? Any journalist might have to do this kind of work without being part of the media outlet or approving of what he translates. To get to that point, you really need to be struggling for evidence. It's grotesque and ridiculous.
Your supporters have denounced the investigation from the outset. Your lawyer, Patrick Baudouin, referred to how the senior of the three presiding judges, Jacqueline Rebeyrotte, had directed the court sessions.
There were no questions on specific issues, no back-and-forth debate. It wasn't a trial, it was a steamroller. Aimed at asphyxiating the defence. Several complaints were read for 20 or 30 minutes and I did not have time to answer. As far as I'm concerned, the sentence wasn't delivered by the courts but by the police. The police wanted me, they wanted me convicted.
In the institutions of any self-respecting state, there are counter-powers that can stop this kind of nonsense. The general public has processed and retained the keywords: "Muslim," "physicist", "Al-Qaida". It's mob psychology.
At first I was naive. I thought that at least one or two judges would recognise the flimsiness of the case and decide to put an end to it. Gradually I learned about the French justice system, the wall of silence that faces you. Bad will mingles with bad faith. At that point you come to understand that you are in very bad hands.
"And they keep hammering away, hammering away"
How did the interviews that took place during your custody go?
Badly. The police used my brother, my mother's health, to put pressure on me during my custody. They looked like hysterical psychopaths, all worked up.
The Tarnac people understand it well. They've been through the machine. They suffered the same thing as me: the doggedness of the police. It only needs a few. Two or three officers rear their head, and after a while it's like you belong to them. And they keep hammering away, hammering away. And then, careers are at stake. In my case, there was at least one confirmed promotion: the ranks changed between the procès-verbales from start to finish. To use state resources to do harm to someone is unspeakable cowardice.
In what way did you experience this "doggedness"?
The tone, the excitement. In custody, I was told, "You'll lose your job, you'll no longer be a physicist, you won't be at CERN any more". Total cynicism!  They were taking pleasure in my losing a certain social status, one of the thugs expressed that to me openly. Contrast that with the behaviour of the two Swiss investigators who came to interrogate me in September 2010. They were very composed, very straight guys. They did their job without all this movie stuff.
The most tenuous details were blown out of all proportion. Without doubt the most shocking were the questions about my religious practices. Why was I asked if I pray or if I fast as part of a judicial investigation? That's to do with life and family culture. I replied that we feel close to the Muslim faith, being very open throughout. Then the questions moved onto political situations, in Iraq and Afghanistan. I never thought at the time that my answers would be used in the indictment. This is inquisitorial, not judicial.
When the prosecutor asked you if you were Salafi, during the trial, you replied to him that he would need a PhD to talk about it.
I find it astonishing that a court charged with identifying a criminal offence speaks of Salafism. We bandy about these slogans, these spectres. I can talk in detail about the trends and movements in the Muslim world. I've read a lot and it's frustrating to deal with people who are not familiar with it, but use it as a psychological tool. It's designed to dispel any rationality from the case, and embrace the irrational stuff that strikes a chord with public opinion.
There is some simplistic shorthand such as "Salafism = armed activity". The Muslim Brotherhood are not Salafist but have armed wings in different countries. The Taliban have nothing to do with the Salafists. It is much more complicated than the simplism presented to the public.
Yvan Colonna in the next cell
How was your detention in Fresnes?
The administration was strict, zealous even. The exercise yards are tiny, 40m2. Nobody can imagine the horrors of detention: broken families, estranged couples, wives crying in the visiting rooms, mothers who can no longer eat. It's counter-productive, as Mr. Baudouin said. The more a security policy is coercive, the more it creates violence and instability.
At first I was in the prison hospital because of my health. I stayed there for four months. Then I was transferred to the main building. 90% are psychiatric cases, some of them very serious. I stayed there for almost a year. I've never seen so much human misery in my life. I played the role of Jack Nicholson in One Flew Over The Cuckoo's Nest.
Then I was transferred to North wing, still on the ground floor. I encountered different types of profiles, mainly gangsters, and there was one political case – Yvan Colonna. He was in the cell next to me.
Not every detainee has a doctorate in particle physics. How did you spend your time from that point of view?
I read a few books(…)and some scientific literature, to keep myself going. I managed to keep this up for the first 20 months – to work, to be effective. After that, I tired.
I was having trouble adjusting to the prison mentality. The prison authorities were struggling to see how to handle me. Detainees that are under close observation or deemed important endure regular cell searches and full body searches, which are particularly humiliating and completely illegal. There is a political will to make preventive detention as painful as possible, in order to wear down the individual. That's how it is in Fresnes anyway.
The notion of painful punishment has strong support in France. Some of the prison staff felt that they were there to be obnoxious. Supervisors are very young, and everything depends on their character and mood. It's a game: whoever gets angry loses the game.
Useful patsy
From the first days of your arrest, articles were appearing in the press using the keywords "terrorist", "physicist", "nuclear" in their title. At what one point did you learn of this media coverage?
My case went straight into the media cycle. The police, the Interior Ministry and the Presidency had their say, and then (the story) came back to the media that they know and they had chosen. My parents came to my first visit, they told me in person. I was cut off from the world until then.
When I realised, I was depressed. I realised that if they were putting out those noises, nothing would stop them. I realised the magnitude of the swindle: I was a useful patsy.
For a private person who has not chosen it to be covered by the media is a great psychological violence. Media manipulation is very powerful thing, even an "angel walking the earth" would end up being destroyed. I am branded with the seal of the outcast, so I cannot reconstruct myself. I'm vulnerable for the rest of my days. We'll see, I'm not ready to give up, I want to restore myself, for better or worse.
You were presented as a 'lone wolf' by some anti-terrorism officials.
Here is a guy who spent his entire youth studying, who works, who lives in a rural environment. I would have never thought they could arrive at such extremes based on nothing. Each step is further and further removed (from reality).
They were forced to create this artificial profile of me, to justify the whole charade. He doesn't belong to a group? He lives alone? Lone wolf. The old rhetoric wouldn't work (in my case).
And that was based on your Internet use?
Yes, but worst of all is the implications of that term 'lone wolf'. It brings to mind someone who lives as a recluse. This is false. I worked as part of an international collaboration, I was dealing with hundreds of people on an almost daily basis at CERN. Many thousands of physicists from different nationalities work together. No skills are as strong as social skills! You have to be able to adapt to all cultures, all temperaments, all personalities.
This part was wiped out in the media. The real person gives way to this profile of a clone, a hologram, dressed up in all these characteristics to sell this justice to the public. I was a clean slate, immaculate, from a good school and university. It was a challenge (for them) to build a story from my past! In my family or professional circle, in my neighbourhood, nobody wanted to offer "dirt" on me. So they went looking for Internet users that I'd interacted with years ago.
Why are you willing to talk about this today?
I'm not speaking to everyone. I reckon it could be productive or positive, but in small doses. If I was to tell the whole story, I could fill a few phonebooks.
Moral disintegration
How do you see your future now?
Difficult. By nature, I tend to be cautious. In the first instance, I don't accept that I was forced out of my passion and livelihood by "la force des mitraillettes" (the force of machine-guns) to paraphrase Louis de Funès. If I have to leave the world of science or particle physics, that will be my own choice. I do not accept that the police took my passion, for which I sacrificed my youth, from me. One must be realistic, and see how to bounce back. I'm exploring, nothing is set in stone. I don't know if the campaign has influenced employers, first I want to break the embargo.
Would you return to Algeria, where you also have citizenship?
That's a big question I'm asking myself. It's too early to tell.
It was in Algeria that Phoenix Shadow, the person with whom you corresponded, lived. During the trial, you said that you had been presented with a nickname and a name, like an equation with two unknowns, and you were asked to assert that one corresponds to the other.
From the beginning of the investigation, the lawyers had been constantly asking where did that name, Mustapha Debchi, come from. At no point was an explanation provided. In my case, the IP address relates to an Internet connection, and so on. Beyond that, a name was tossed out without justification, without proof.
At no time did you know the identity of the person behind the nickname Phoenix Shadow?
Phoenix Shadow remains Phoenix Shadow, end of story. There was no knowledge, or desire for knowledge. I think at first they wanted to connect me to the case of Belgian-Afghan smuggling rings. That was my feeling while I was in custody. There was insufficient evidence and the script would have been terrible: a scientist in a smuggling case!
Then, the questions changed over the course of my being in custody, as a result of their investigation of my hard drive. Questions shifted towards AQIM. That's really how counter-terrorism works. Normally when a person is placed in custody, he should be notified of the custody charge and the case file should be filled out, which he is charged with. For me there was nothing! The custody charge was "a serious presumption of criminal association in connection with a terrorist enterprise", but the case file was empty, blank.
---