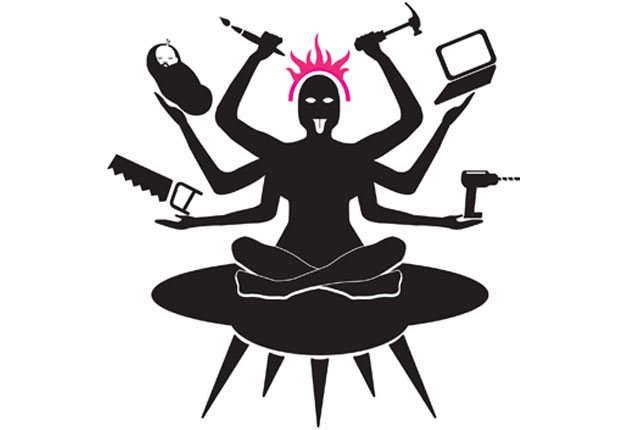 Crèche, masculine noun, 20th century: Day care centre, an organization of adults who take care of children in place of their parents. [Source: Wikipedia]

Mothership HackerMoms, noun, 21st century: hackerspace-crèche welcoming both mothers AND their children. There they can indulge in some creative hacking to the sound of babbling rugrats. [Source: Owni]
Created in California in 2011, Mothership HackerMoms (MSHM) is unique. Sho Sho Smith recalls its origins, from a painful situation.
I started Mothership HackerMoms last year when my husband was in cancer treatment and I'd just given birth to my second child. In the same way that cataclysmic events cause change, it was cancer that drove the need to find a separate space. I needed a positive project that yoked creativity and motherhood, two primary parts of my life, in a way that was greater than myself – so that I didn't lose myself. It was self-care, in a way. I was supporting my whole household and needed to find ways to stay strong and healthy in mind, body and soul. HackerMoms saved my life, and by extension, my family's lives.
Escaping isolation
From this very particular starting point was born a community that offers a service not just to mothers in distress, as Sho Sho explains.
I thought we moms needed to have more fun in our lives to counterbalance the demands of being the perfect modern mother. Life with young kids can be an isolating state and a fractured existence. It became clear that childcare was a major barrier. Mothership HackerMoms evolved with babysitting as an integral part of our creative process, giving us the time and space to work.

Traditional moms groups tend to be about the kids. We are here to first support the mother, her identity as a powerful creator, woman, explorer, entrepreneur, the artist of her life and of family life.
All of which will no doubt reassure the grandmother of Samantha, one of the co-founders of MSHM.
My grandmother says she feels a little sorry for mothers today. They have so much creativity and access to information but no time to enjoy it and no validation for the meaning it brings to a mother's life and the life of her children.
From coding to furniture restoration
Reflecting its cool logo, which represents a stylised shiva mom brandishing a drill, camera, computer, paintbrush and, of course, a baby; activities that look beyond the usual gender stereotypes. Of course, there is a tropism claimed around children, necessarily the heart of the project, but it's a long way from a kitchen knitting group. There are workshops for making outdoor games, a security door made from wooden pallets, book-binding, a Math Club, programming sessions. The latter are led by Lisha, 40, who has been writing lines of code for 19 years, has children and even a grandson. It's a long way too from the world of hardcore hacking: the concept itself might be the ultimate hack here, flipping the traditional primary purpose of crèches.
Commercial projects are also being developed and some moms use the space for their businesses. A collective working group meets to discuss their development for MSHM. Samantha explains further.
As a group, we have been collectively designing unique t-shirts, kid clothes – shirts, knit hats – and we have some other products based on the idea of upcycling in development right now.

Places like Hackermoms could absolutely contribute to economic revitalisation by providing low-overhead for inventors and Makers and adding a flood of unique and useful products to what's available- which is what people are looking for these days. And because there is lower overhead and it's made locally, it is supporting community income and keeping costs down so people can actually afford to buy.
After nine nomadic months, MSHM settled permanently in April in an area hit hard by the economic recession, between Oakland and Berkeley. While the first members were largely middle-to-upper-class, the location has brought a stream of new visitors. "We have a variety of professions within our membership: artists, writers, graphic designers, programmers, educators, animators, and more," recites Samantha. "Within our group, we have done some professional networking with organisations that have the same interests. Though we have some mothers who work full-time day jobs, many others have chosen flexible schedules that fit into freelance creative lives and motherhood." There are now around twenty regular members, excluding visitors who come for specific workshops.
"Fem-mom-ists"
HackerMoms provides an alternative (and cheaper) therapy for its members, who have found that restoring furniture with girlfriends is more beneficial than a packet of Prozac: "If we don't support this playful creative self," Sho Sho argues, "we risk burnout, depression, and two-year-old level temper tantrums. It's a use it or lose it philosophy to motherhood sanity". For Samantha, MSHM "brings back the village for women", providing "one more opportunity to model a healthy, balanced lifestyle, take a mental break, time to focus on oneself. I have seen the incredible benefit in our space among the women with infants and young children as well".
While the moms are a busy lot, their kids also play a crucial part in the creative process, as their presentation emphasises. MSHM is not a place where the kids are dropped off in the park while the adults get their DIY on.
Because our children learn by watching us, we provide on-site childcare during our meetings.
HackerDads
But what of the HackerDads? One surprising stumbling block (among others) has been the American discomfort in the presence of nipples. It would be funny if it wasn't keeping guys away from the hacker-crèche, as Lisha laments.
Men are definitely allowed! They just haven't joined yet. You might say we suffer from the inverse gender problem, in part because of the way that Mothership Hackermoms is built around moms' needs. We're talking about a pretty small place that fills up with moms and toddlers and infants, and there are lots of naked breasts (nursing moms) and diapers and other things that make some people a little squeamish.

In the US breastfeeding is an oddly controversial issue, and if there is one thing that NO ONE is shy about in our space, it's breastfeeding. For some people, that's enough to make them feel like MSHM is not their hackerspace. And I understand that.
Poking fun at this breastfeeding phobia, some of the moms knitted bodices for women who are breastfeeding.
The MSHM project is feminist, of course, but then the majority of women today would describe themselves thus. In attempting to better define themselves, the hacker moms invented a new word, "fem-mom-ists". "Because mothers often take the biggest hit socially, economically, and emotionally when they have children," explains Samantha.
Learning in a hackerspace
The world of DIY hacking remains a predominantly male one. A small 2011 study showed that men accounted for 90% of the workforce of hackerspaces. It was time to reverse the trend, a fact that Lisha celebrates.
HackerMoms has also succeeded in putting a spotlight on the role of women in the hacker community. This has created some controversy, for sure. Some people feel like women were in no way excluded before, or that this space unfairly excludes men because it's so focused on the needs of mothers. But what's really great is that people are HAVING this discussion at all.
HackerMoms is also yet another example of the fruitful relationships that can exist between education and hacking. Such relationships are not always easy to grow, due to health and safety concerns. Some hackerspaces accept children, and school projects have even been developed around such structures. But others refuse, wary of ending up in the emergency room with a toddler injured by a laser-saw.
Requests the world over
Mothership HackerMoms has not yet attracted the attention of politicians. But word of the project is spreading, with hacking enthusiasts from around the world making contact with the MotherShip.
I've started talking with a representative from a community centre here in Seattle about starting a family-friendly hackerspace at their community centre. They have a Maker Scouts type program there called "Big Brained Super Heroes Club", and they want to see the benefits of the shared space, shared tools, and shared learning of hackerspaces brought to their low-income, mostly immigrant community.

Potentially, there could be Seattle HackerMoms, Palo Alto HackerMoms, Tokyo HackerMoms, Glasgow HackerMoms… who knows?
---
Image Credits:
Mothership HackerMoms
& Caitlin O'Brien © All Rights Reserved