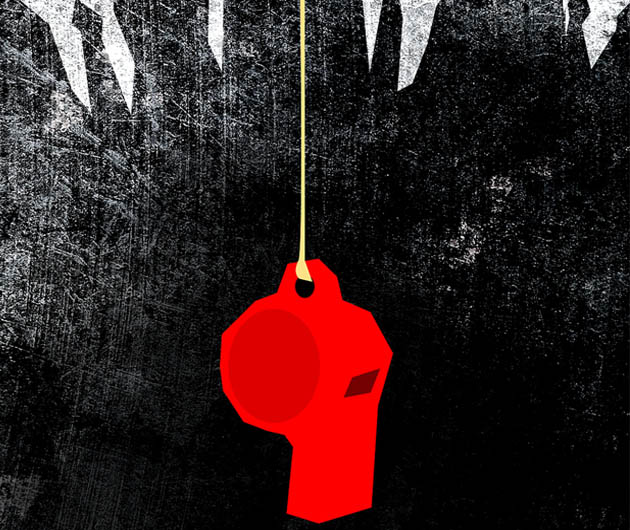 Beyond the judicial and diplomatic entanglements of its founder Julian Assange, the WikiLeaks project continues. Similar whistleblowing projects have been multiplying, albeit without much success to date.
Platforms for collecting confidential information that sprang up in the wake of WikiLeaks have been in decline in several countries (French Leaks, MagyarLeaks) and regarding different subjects (EnviroLeaks). The Anonymous banner was even attached to one version, Par:AnoIA.
Whistleblowers
All interesting initiatives, but none of which satisfied Pedro Noel, a Brazilian activist who was part of the Occupy movement and former member of WikiLeaks Central. He is one of the founders of the Associated Whistleblowing Press (AWP), a group that has just launched its website – whistle.is. It's an ambitious project with an evocative name, referencing the famous American agency Associated Press. AWP will take lessons from the successes and failures of WikiLeaks, explains Pedro Noel by online chat.
We do not want to be rivals of WikiLeaks. We are simply several people leaving WikiLeaks Central to launch another project, because it [WikiLeaks Central] has become a portal for media that are very focused on Assange and WikiLeaks.
AWP wants to be its own media organisation. The team consists of about six publishers, including the two founders, Pedro Noel and Santiago Carrion. The site is hosted in Iceland, a country "that is struggling to provide publishers, journalists and whistleblowers with a protective legal framework." Within AWP, the roles rotate. For the moment, Pedro Noel is editor-in-chief, but that may change. Decisions are made in a collective manner, in accordance with hacktivist philosophy.
The collective is aiming to incorporate the entire distribution chain of confidential information (the leaks). From collection, via a secure platform, to processing the data and eventually publication. The project is a reaction to the "corporate media" for which AWP displays a strong distrust. On their website, they write:
On a transnational level censorship is daily practice in the mass media – as crucial information is neglected and apathy is encouraged. This is designed to maintain or increase the power of the media's owners, as well as the socioeconomic environment they are a part of. This fact (…) has created a situation that taints the very nature of journalism: to provide accurate, impartial information in order for citizens to govern themselves properly.
Tough talk, but in fact the AWP is not indiscriminate in its condemnation of "commercial media". Several major European newspapers have been contacted with a view to establishing partnerships, some of which are still under discussion. More pragmatic reasons go some way to explaining this distrust. The founders claim they have been disappointed by the handling of leaks, by the wider media and by WikiLeaks itself, handling that may have limited their impact.
"The current means of both publishing and publicising leaked data are highly ineffective," they argue on their website. "Whistleblowing continues to depend on commercial media to bridge the gap between raw data and news."
"Assisting Communities"
AWP have set their ambitions to more modest levels, prioritising local, direct impact over shaking the whole world to its foundations. Their secure platform will be available in several regional and local platforms. "We need to convince people to leak everything that touches the life of the city, public or private," argues one journalist interested in the project.
Here again Pedro Noel is eager to make clear the distinction between WikiLeaks and AWP. "Organisations such as WikiLeaks are very focused on the Anglo-Saxon world and only reveal information that's of global interest, and often related to the United States. That's a problem," says Pedro Noel. "We want to HELP communities."
Ideally, local platforms would allow members of a council or a business, however small, to discreetly transmit documents that local journalists could then process. But that may remain just an ideal. The publishers control the information from the beginning to the end; the decision as to what gets released (and what remains buried) rests with them.
---
Image Credits:
Truthout
CC (BY-NC-SA)