To win an award, and pin a Legion d'Honneur to one's chest, one must first compete. Register. Apply. They say that, despite what our fellow Coubertin claimed, participating is the most important part. However, once you participate the game is far from over.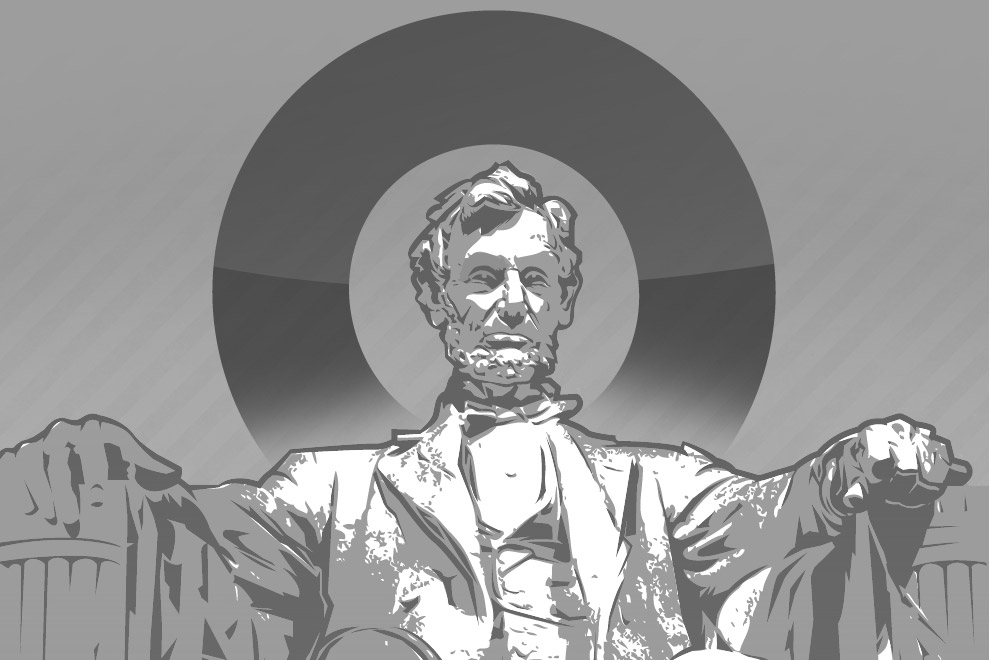 For the past ten years, the Online News Association has been organising a world-famous award ceremony for innovation and excellence in journalism, with a (very) strong U.S. tropism. In its 3-year existence, the "non-English" prize was only once awarded to a France-based project: Agence France Presse received it for their original coverage of the Tour de France. Afterwards, both Rue89 Blogtrotters were shortlisted. Though there is little to be gained – 3,000 dollars for non-English websites which attract less than 1 million unique visitors per month – no reporter or "press executive" will deny that the ONA Award is the major international trophy of web journalism.
Wave exciting goal
Last May, Adriano Farano, an OWNI partner currently based in Palo Alto as part of the Knight Foundation fellowship program, showed me the ONA Awards application form.
- "Here is a first draft, I need you to have a look …"
Adriano said, in his heavy Italian accent, one hour after he started filling it in.

The Saucer (as our newsroom is nicknamed) is far – very far – from being a holiday resort, and neither the developers nor the publishers and journalists, nor I, the publishing director,  ever pay attention to these sort of things. I made one or two changes to the draft. "At OWNI, we work, hard my dear, and have little time for Miss America Contests," I thought to myself.
The Canada-Taiwan axis
Towards the end of September, the hundreds of "screeners", who had first assessed the competing websites delivered their verdict to the ONA judges. They spoke out: we were in the final. The quality of our work was praised, notwithstanding how dissonant it was within mainstream media: we don't host ads, we don't require subscriptions, direct purchases or tolling, our newsroom (twenty employees) is short of leaders or sub-chiefs, strata and sub-strata, but is rather crowded with developers, designers and journalists, backed by a community of nearly a thousand bloggers and talented authors (journalists, academics, professors, experts, students … ) with whom we are truly connected: many of them drop by our offices for a drink, or to grab some lunch …
After being told the good news, we published a tiny news story – and, as with every excuse that comes along, we had a celebratory drink.
More than one hundred judges had just a few days to examine the websites before making a decision. Our competitors were Canadian website Cyberpresse.ca and a Taiwanese site powered by Yahoo!, Local Foods Yahoo! Taiwan. All hands to combat! Here at 50ter rue de Malte we showed them the best of what we aspire to deliver daily, our aim was to prove that ours was not just #beautifulmedia (more on that later) but that our approach was truly value-added: civic, educational, economic and cultural. We had to ramp up and, better than that, grow bolder.
October 6, 2010, 21:30
A phone call.
- Hello, this is XXXX XXXXXXX*
As for Oscars, a referent among the judges lets the winner know that it would be deeply appreciated if he didn't miss the D-Day.

- Nicolas, you come to be Washington! I just want you to know you have to attend the ceremony, whatever it costs. But don't tell anyone.
(This log was anonymized before publication /-)
Needless to day, this was definitely a first for us. After all, our job is to NOT be silent. Ironically, it would not be the last. I was not allowed to express joy nor (unprecedented) pride, not even to my wife or to those with whom I spend 12 hours (or more) every day. I had to hold my tongue. But I could not help crying. Tears of joy. Incredulity. My only outlet was to write the speech I would give on October 30 (see below), with authenticity and elation. To be honest, when, three weeks later, I climbed the stage, I didn't have to look very far to find the "a posteriori-spontaneity" needed to communicate to everyone why this was truly an honor – as well as the ultimate nod from the leading professionals of our ecosystem.
A War Agenda
During these crazy weeks, our path crossed that of Julian Assange, and our lives became even more complicated. Our clients, to whom we deliver open source publishing sites, data-vizualisation interfaces, and "augmented journalism" applications, continued to solicit us. Current events, such as repeated strikes, didn't hold us back. And it gets better. A few weeks ago week we worked around the clock, while part of our team was secretly in Washington to launch three websites in five days (OWNIsciences,OWNIpolitics and OWNI.eu – the latter in English with a special European outlook).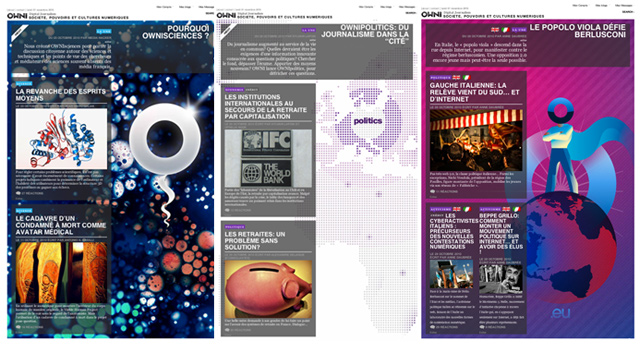 Furthermore:
- On October 22, 2010, we completed our first fundraising round, which had begun in August.
- On that day we released – without knowing at any point what the exact calendar of action was – an application that allows WikiLeaks to give optimized access to 400,000 classified documents on the Iraq War. Perhaps the biggest leak in the history of the war, but, above all, the largest transnational collaboration in the history of contemporary media.
Thriving on innovation
We are an emerging start-up, short of financial muscle but devoted to our independence. We are not keen on making any losses but, most of all, we wouldn't tolerate sacrificing our freedom or distorting our ambitions. Our capital and flight plan are open to our strengths, and most of us are partners within the company: co-founders Nicolas Voisin and Franz Vasseur Florimont (Pierre Bilger), Thomas Wersinger, Aurélien Fache, Guillame Ledit, Loguy, Adriano Farano, Sabine Blanc, Nicolas Kayser-Bril, Rémi Vincent). We are a profitable structure which funds, without grants or credits, a new medium. We may become, in the eyes of the greatest of the profession, "a media outlet that thrives on innovation", while many others struggle to survive through invasive advertising and exclusionary subscriptions…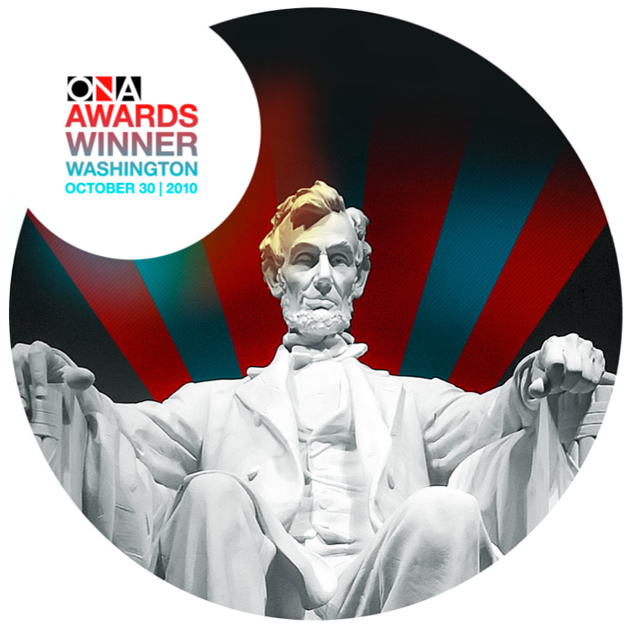 Within just 20 days  we collaborated with WikiLeaks, completed a fundraising round and took part in ONA's conference in Washington. In what was arguably not the most relaxing scenario, we carried out complex strategic decisions on a daily basis, and I would be lying if I said that this was not done in the spirit of rock & roll and with incredible emotional tension.

United, we rock!
At the end of October, Kima Ventures (Xavier Niel), Marc Simoncini, Michele Cerqua, Jean-Philippe Larramendy, Marie-Hélène de Lesquen, Henri Pinon, Pink / Faber Novel (Stéphane Distinguin), and active members of the 'saucer' (Regis Confavreux, Pierre Romera and Martin Untersinger) entered the capital of OWNI for a little over 12% stake in the company. All issued shares have been sold.
This guaranteed a cash investment of over € 300,000 and granted the Saucer a "recovery" of nearly 3 million Euros – not bad for a newborn
. We plan to eventually open our capital and bring to life our pending application projects, release the print version of our website (yes, really!) and invest between 1 and 1,5 million euros (i.e. 10 to 15% of capital) on R&D. We still own more than 70% of our company – that is the price of our independence – but we also have a shooting force that has nothing to envy our colleagues, especially the ones across the Atlantic. I remind you, for all practical purposes, that OWNI is a company  doesn't make any losses and reinvests its margin in the development of an innovative European media group, built step by step, brick by brick. This mixed model is at the heart of our freedom, a key point to our originality.
K Street
Suitcase in hand and abhorrent United Airlines meal 'in stomach', we headed towards the Marriott Renaissance Hotel Washington, where ONA's annual meeting was being held: 300m from a main FBI office and 3 km from the CIA's Intelligence Center. Merely eight days after launching of the Iraq War Logs application. Some of us were sure we were risking detention or worse. What can I say, sometimes imagination plays strange tricks on you.
We arrived three days in advance, during an officers and military pins collectors meeting. We installed our 'War Room' & Wi-fi HQ in the "lobby", which couldn't have been more appropriate since the Renaissance is at the corner of K Street, the street were the lobby was located and our work space, with seats that can accommodate a horse, is also named the lobby!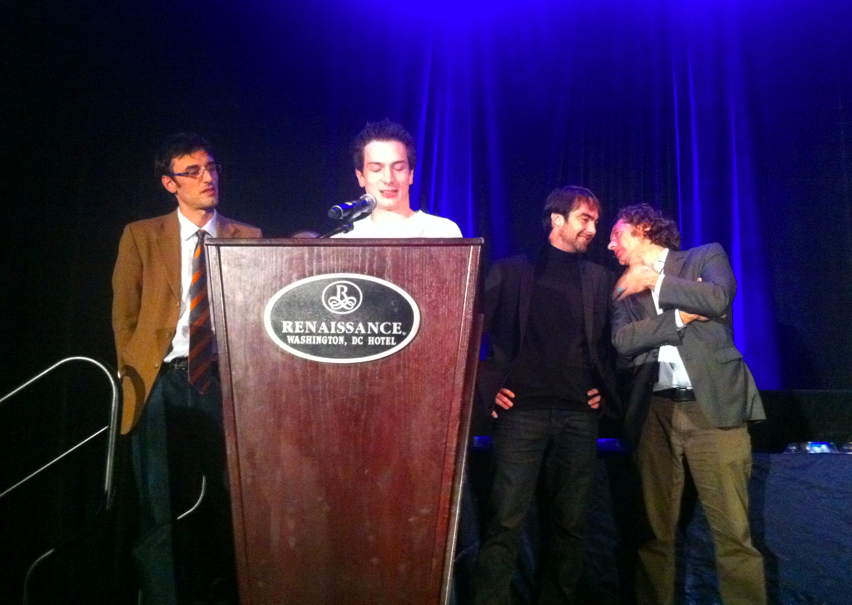 The jury justified its verdict as follows: "The judges concluded that OWNI offers, for its size, an ambitious commitment to many of the most innovative uses of digital journalism available. It's a clearly designed, superbly functional site, and is a role model for others in how to generate  engagement and produce great journalism at the same time."
On October 30, 2010 at 10 pm (or 4 o'clock in the morning French time) and after a buildup of tension worthy of a James Bond movie, four humble French men (here from left to right: Adriano Farano , Nicolas Kayser-Bril, Nicolas Voisin and Franz Vasseur) received the ultimate confirmation of victory and climbed the stage of the so-called Oscars of journalism.
The result is thousands of tweets, a live video and a speech (at 1:14 – also don't miss the presenter's wink at 1:21!)
The most observant among those who heard it know that my English is matched only by the quality of United Airlines meals)
Here, again, a profession of faith. See below the full speech delivered that night,  in the language of Shakespeare (well, almost /-)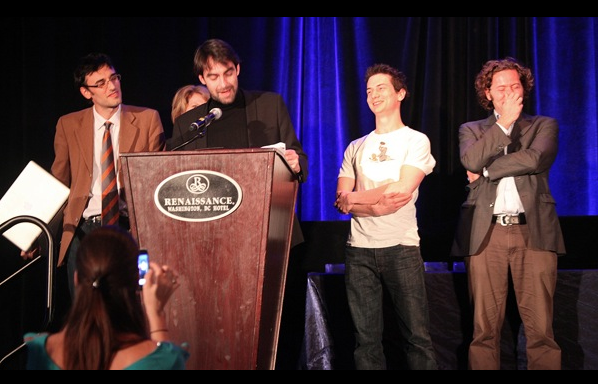 Washington DC 2010/10/30

(NV) Good evening Washington DC,
Sorry we're french, we prepared something

OWNI is only 2 years old.
It was already a great honor to have been selected by the Online News Association.
And you award us this prize: the honor is doubled.
Above all for the modest French craftsmen we are.

I have thirty seconds to thank my Mom, my wife and eleven-month old Eva.
But let me before introduce another Nicolas (a few years ago it was a trend to be a Nicolas in France) Nicolas Kayser Bril, our head datajournalist.

(NKB) We'd like to thank our bloggers, our 900 authors.
We thank our journalists, datajournalists 
our community editors .
Our five designers 
our illustrators, infographists, artists, and our many, many developers.
All the craftsmen and women who make this beautiful young media group

 .
We'd like to thank OWNI's twenty full-time employees 
who're 27 on average.

We're are WordPress specialists.
We're Javascript and HTML five addicts.
We're among the only actors in datajournalism in France (and continental Europe).
We're social media editors.
While our competitors still sell time, or ad, we are the watchmakers of the news.
We rather design, develop and sell publishing platforms and datavisualization to the main medias in Europe.
With those revenue streams we are able to fully finance our own media owni, without any ads or paywall, and remain wholly independent.
We are at the same time a profitable company and a free open source media that publishes everything under a Creative Commons license.
We innovate with passion 

!
We're online, we're coming on iPad and mobile devices and in English. And we'll try new innovations, even on paper.

(NV) About this,
We're opening our second round of funding to those who believe in the need for mediation 
innovation 
experimentation 
and subsidiarity.

We'd like to thank the Online News Association for their inspired choice.
Such a vote is well worth the rings under our eyes and a few years' hard work.

We are half rock 'n roll, half businesspeople.

Welcome on board /-)

Together, we rock!
—
Translated by Federica Cocco
* = note: wink aimed at those from whom I had to keep such an unbearable secret, but have since had the opportunity to share with you.