More than 5,000 refugees arrived in Lampedusa (an island situated between Malta and Tunisia) since the beginning of the year. According to the International Organization for Migration (IOM), the situation is now critical: the island has a permanent population of 5,000, but it can only accommodate 800 refugees.
In a statement, United for Intercultural Action, an NGO that defends the rights of migrants and refugees, affirms that since 1993, 857 refugees died in attempting to reach Lampedusa. Since the beginning of the year, United has already identified 6 dead and 31 missing people resulting from migration to Lampedusa. The actual statistic is probably much higher given the events on February 11:
The Tunisian coastguards were seen deliberately colliding with another boat, ironically named "Liberty 302." The boat, which was carrying 120 passengers, was split in half; so far 5 migrants' bodies have been recovered and dozens more are missing.
Since 1992, United compiled reports from journalists, academics, government sources, and NGOs. According to United's work, there has been over 14,000 casualties within the "Fortress of Europe" since 1988.
The majority of these deaths – well over 11,000 – occurred before they even entered European territory (4,696 deaths in Africa alone). Nearly 10,000 drowned in the Mediterranean due to their ship sinking. These boats fall to the ocean floor from attacks either in open waters or near the coast, or from trying to flee from the police seeking to take the migrants in for questioning.
864 died from thirst and hunger. The majority were either lost in the desert or drifting at sea;
Nearly 300 died from suffocation in a truck;
254 were murdered;
More than 250 were crushed while either attempting to cross highways or by falling off a truck;
215 died from frostbite;
Between 138 to 335 committed suicide by hanging, 4 died on hunger strikes and 33 by other means of suicide.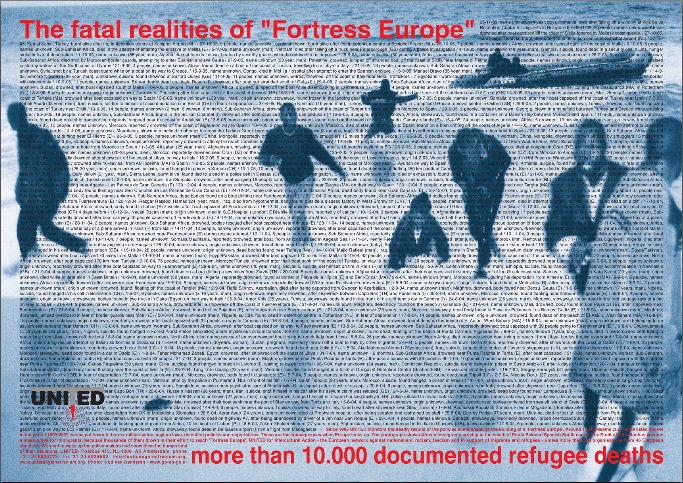 Another organization called No Border records the death toll at 3,899. Yet Fortress Europe, whose database goes back to 1988, publishes their findings at 14,921 casualties. 10,952 of these people died in the ocean, and 1,691 in the Sahara desert….
The disparity between these statistics demonstrates how impossible it is to actually identify the total number of migrants who gave their life in trying to find refuge in Europe. United estimates that the real figure could be 3 times higher.
14,000 in Europe, plus 4,500 in the Comores
As evidence of this, it is sufficient to look at United's list of the dozens of casualties in the island of Mayotte, in the Indian Ocean. There, according to Fortress Europe, 629 migrants died mostly from drowning in the process of trying to cross the Comores to the open sea. The French Senate reports that since 2001 there have been an "estimated 4,000 deaths [FR] from kwasa-kwasa shipwrecks, where boats are often overcrowded and used for illegal transport…" Meanwhile, the site Stop Kwassa argues that the true figure of people drowned is 4,500.
According to a report [FR] from the French auditors organization, the situation has since then improved: "The average number of shipwrecks in the last four years is deplorable. Disappearances and deaths at sea are high, although the number is decreasing (64 in 2007, 47 in 2008, 35 in 2009)." Yet the report indicates that "this strong force of migration is likely to be revitalized due to departmentalization".
Many of the casualties were never reported because the bodies were not found or the incident was covered-up. The latter was the case during a horrific storm on Christmas night in 1997, where 283 people drowned off the coast of Sicily after their boat collided with another vessel carrying illegal migrants and filled with trash. The tragedy was not revealed until 4 years later, when a fisherman broke the code of silence. Canal+ produced a video - Mediterranean: An investigation on the sinking phantom [FR] – reporting on the tragedy.
To investigate further into this story, OWNI contacted United for Intercultural Action. They were generous enough to give us a copy of their database, which contains information on migrant deaths in Europe organized by date, country, and cause of death. With this data, we were able to create an interactive map: by browsing the different categories one can explore the evolution of the problem and view the facts behind the stories collected by United.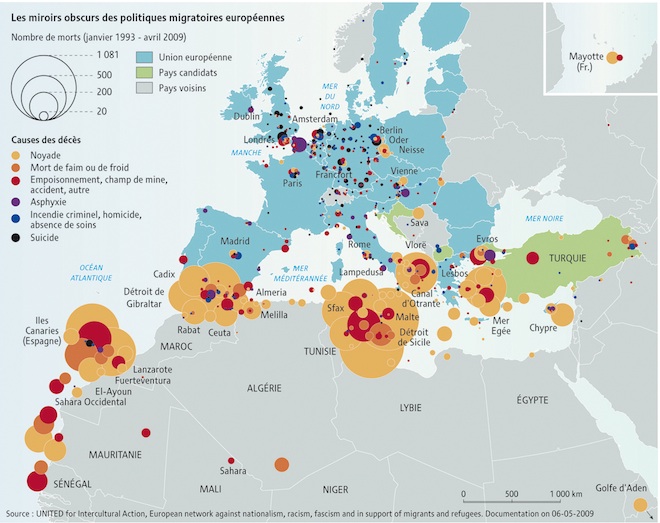 Paradoxically, the casualties of "Fortress Europe" occurred predominantly in the Mediterranean and Africa. This is clearly stated in the maps produced by Le Monde Diplomatique. The first map debuted in 2004 [FR], and the follow-up in 2010 [FR]. A summary of the situation's evolution [FR] is also available, along with an exceptional graphic explanation [FR] by Elise Gay.
Cartography
: Philippe Rekacewicz (
Le Monde Diplomatique
)
Some may recall that in June 2000 58 Chinese people suffocated to death [FR] in a truck in Dover. Yet it only takes a few minutes to skim through the database before realizing the Dover case is far from being an isolated incident. This is not just a story of numbers, statistics, and graphs – the stories of refugees' deaths complied here reflect the brutality and devastation caused by the war on migrants. [FR]
The majority of migrant deaths result from drowning, often because of overcrowding on the small boats used to attempt the journey. One such example notable in its scale occurred on March 29th, 2009: three rickety boats sank off the coast of Libya during their voyage to Italy. According to the International Organization for Migration, more than 300 men, women and children perished in the waters. According to a statement from a survivor [FR], the boat was carrying 365 people when its limit was just 75.
Police killed 235 migrants
Drownings are not always due to bad weather or overcrowded boats. In March 1997, 87 Albanians drowned after their boat collided with an Italian military vessel. In May 2000, 32 refugees died in their sinking boat nearby Tangiers, and the local authorities made no attempt to rescue them. Again in 2008, 36 Africans (including 4 babies) drowned after the Moroccan coast guard punctured their inflatable boat.
In August 2002, 16 Africans drowned after their boat capsized in a maneuver aimed at escaping the Integrative System of External Surveillance (Système Intégré de Surveillance Extérieure, or S.I.V.E.). This "sea monster" is composed of a complex system of videotapes, satellite links, radar, infrared and thermal cameras, supported by boat and helicopter interventions.
Many also die from frostbite, thirst, and hunger. In October 2003, 5 were found frozen to death in a refrigerated truck which was lit on fire. 12 Somalis died of hunger and frostbite in a boat that was traveling to Lampedusa from Libya. The passengers were said to have gone 20 days without eating, and the captain was also accused of throwing additional corpses overboard.
In August 2008, 56 died of thirst in the Sahara after they ran out of fuel and were stranded there for 10 days without water. In January 2010, L'Espresso released this video [IT] showing two dehydrated Africans barely alive and surrounded by their lifeless cohort, who did not survive crossing the Sahara [Warning: graphic images].
Hundreds of refugees have been direct victims of the systems put in place to prevent their entry into Europe. One such example includes 11 refugees who burned to death in a fire at Schiphol Airport's detention center in the Netherlands. Other horror stories reveal:
73 people died in minefields,
63 were killed or missing after deportation,
110 died in detention centers,
48 in custody and 57 in prison died under the supervision of higher authorities, regardless of whether the migrants were supposed to be retained.
Fortress Europe estimates that 235 migrants were killed by police guarding the borders, "including 37  in Morocco, Ceuta, and Mililla, 50 in Gambia, 75 in Egypt, and 33 in Turkey along with the borders around Iran and Iraq." Vullnet Bytyci [FR], an 18 year-old Albanian was killed in September 2008 by a Greek border control guard. The punishment was 2 years and 3 months in prison, however the sentence was later suspended. Amnesty International also denounced 6 other related incidences [FR] which occurred the same week, revealing the "abuse" imposed on refugees who were severely beaten by the border patrol.
Between September and October 2000, Libyan authorities, on motivation of race alone, had already murdered 560 foreigners. Another tragedy occurred on October 8, 2009: While trying to escape their confinement camp, between 6 to 38 Somalis were killed by Libyan police officers.
Tschianana, Mariame, Israfil, Manuel, Osamyia and others…
While the majority of the database is composed of anonymous figures who passed away, some entries contain the names of migrants who have fallen at the borders. Being able to put a face on these cases helps to humanize this horrific problem:
From United's database, approximately 50 people have died of "fear" in trying to escape from authorities.
The revolution: a long road to peace
Italy is confronted with a massive influx of Tunisian migrants. In response, the government moved to put a total block on the immigration, claiming such a large number of people could be providing cover for terrorists and fugitives. France in turn will only assist with "marginal cases."
The Migreurop network was created in 2002 after a seminar on "European camps" held by activists and researchers. The group's objective is to "raise awareness on the widespread detention of foreigners without residences permits." Migreurop denounced Italy's cold reception towards Tunisian refugees:
Raising fears of invasion and the threat of terrorism, Italy, which has declared a state of humanitarian emergency, is demanding an immediate mission by the Frontex agency to patrol the coast of Tunisia and to intercept migrant boats…

Migreurop network wonders about the reasons that have enabled the crossing of several migrant boats in this zone of the Mediterranean, which had been "locked" for several months following the conclusion of cooperation agreements between Italy, Libya and Tunisia for maritime borders control. Who has an interest in highlighting the threat of disorder in these states?

Rather than Frontex patrols and readmission agreements, it is the lifting of migratory controls which should celebrate the spirit of liberty coming from Tunisia and Egypt.
To avoid past tragedies from repeating themselves, United has called on the Italian government and other European authorities to stop exploiting the plight of refugees and to implement the Council of Europe's resolution 1637, which covers the human rights for boat people:
It is one thing to support the revolution in Tunisia, but it is another to assist the country until peace and stability are restored. This includes respecting Tunisians' human rights and their fundamental right to seek asylum.