Hello everybody! How's it going?
Geoffrey here, live from the north of France, where I have succeeded in finding a connection (56k DSL…) so that I'll be able to prepare for you this 26th edition of Friday is Graphism! This week, I have chosen to show you the latest work of F.A.T. that pierces out hard drives. We'll then check up on Lars Martinson, and my design research project Neen. We'll follow that up with a project that lets you share your taste in video while you're walking your dog or grocery shopping. Then we'll finish up with a WTF that will generate artistic speech on command…
Happy Friday…and happy graphism!
Geek art
Beginning this week, we have the latest project from F.A.T. (Free Art & Technology) by Randy Sarafan. Entitled Media Artist Contingency Plan, the goal of this project is to protect your data from the government. Or maybe you're just a troublemaker? At any rate, when Big Brother comes knocking to take away your computer, you'll need an escape plan!
Thankfully, this "informational sticker" will help you cause serious damage to your hard drive quickly. The idea is to locate the exact position of your hard drive (generally in the bottom left-hand corner), so you can drill effectively into the device when the time comes!

Artist
Next up is the latest from Lars Martinson's "Tonoharu" graphic series. This graphic novel tells the story of an American English professor living in the Japanese countryside. It's funny, offbeat, and most of all semi-autobiographical. Lars Martinson recounts the story of Daniel Wells, an expatriate in Japan working as a linguistic assistant in a small provincial town. Here are two videos that showcase his work

Color
The must-see site of the week is a system created to find the color of something – you'll find the object's color, its color family, and its visual imaginary. It's called "The Color Of" and works by searching, assembling and analyzing the data of Flickr images. The project attempts to respond to the abstract and complex in an objective way by using simple algorithms on data coming directly from human perception and photo SEO (search engine optimization).
Emotion
I'm taking advantage of this Friday to present you with my personal research project in EnsadLab. It's called Neen which stands for Nonverbal Emotional Experience of Notification. I'm not going to retell the whole history of the project after my article, workshops, prototype, studies, research papers, and recent conference given at EnsadLab in Paris – and I wouldn't bother telling you that I had the opportunity to present Neen at the Lift in Marseille or at Place de la Toile on France Culture

Quick recap of Neen:
"Neen stands for "nonverbal emotional experience of notification" and is being developed by Geoffrey Dorne in association with the IDN (Identité Numérique Mobile – Mobile Digital Identity) research laboratory under the supervision of Rémy Bourganel & Étienne Mineur at EnsadLab in Paris. Neen studies how phatic, emotional and nonverbal communication are conveyed. With the goal being to introduce fluidity, humor, and civility, the project revisits digital presence, nonverbal communication, as well as the messages and notifications with the help of design probes."
I'm rapidly putting together a simple website that gathers the studies and papers on my project – and here it is: http://neen.fr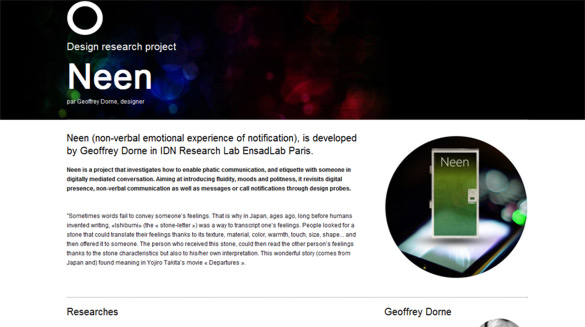 Digital Lifestyle
I was pleased to discover this screen jacket this week – both incredible and expressive! Created by Dave Forbes, the lab coat is covered in LED panels and is capable of showing video and images from an iPod or portable DVD player. Built for the Burning Man festival (if you're not familiar with the festival, check out its Wikipedia page), the device is powered by a 12 volt battery that works for about an hour. Crazy, but you have to start somewhere!
The WTF
Finishing on a lighter note, take a look at the "Arty Bollocks Generator."  It's a website that may prove extremely useful if you ever have to write an "artistic statement." According to James Ross, creator of the online generator, an artistic statement is nothing more than written nonsense which is supposed to appear sophisticated. To avoid this dreadful task, James invented a way to create your artistic nonsense for free! You can even generate the approach of other artists. Convenient when applying for funding, promoting expositions, updating your resume, websites, etc.

The Final Word
I'm receiving more e-mails and tweets that share your news and sometimes your projects, and I just wanted to thank you! If you need something else to read, why not my summary of LIFT 2011 in Marseille, the new KMagazine, or maybe check out the most beautiful typos
See you next week for new adventures!