The war is on. After many months of impossible deliberations and mediation, Wikileaks has decided to take care of the liability that is Daniel Domscheit-Berg, a previous spokesperson for the organization. In the span of only a few days, WikiLeaks' attentive observers were clued in as to why the site's output had suddenly slowed, subsequently delaying the deadline for their next stunt. Apparently DDB destroyed 3,500 confidential documents transmitted by anonymous sources "in order to protect [them]." The German activist not only confirms his act, but proudly proclaims his involvement to OWNI:
I destroyed my copy of key material to access 3,500 objects that were submitted to WikiLeaks between January 2010 and September 2010. From my experience I would estimate that only 10-20% were real documents at all. The juicy documents had already been extracted by WL and published in 2010. CIA Red Cell, Loveparade etc. The remainder have now been destroyed.
But why? Domcheit-Berg doesn't give a straight answer:
We decided to delete the key material after finding out a few months ago that due to carelessness and ignorance, all the cables have been put into the wild. This is the most irresponsible publication I can imagine, and as this was not willingfully published but is the result of an easily avoidable mistake, my doubts about the capabilities to safely handle any kind of material have faded further.
Among the lost documents was a complete list of the NSA's no fly list, tens of thousands of emails sent from the German National-Democrat party, the composition of some 20-odd neo-nazi groups. Most importantly, 5 gigabits of Bank of America's data, a long-awaited Assange-approved leak. According to Domscheit-Berg, it's just a decoy to divert peoples' attention:
There never was any BoA material in there. If you look closely, you can see that Julian had announced that material in October 2009 already. He then promised many times to publish it, recently claimed he cannot publish it because BoA is blackmailing him, and now he claims I had deleted it. I do not know why he does that, but it clearly does not match up.
The CCC showdown
To understand the reasons for this sudden and violent situation, it's necessary to go back to August 10, 2011. On that day at a former military base, Daniel Domscheit-Berg presented OpenLeaks at the Chaos Communication Camp (the largest gathering of hackers in Europe). For the first time since the release of his book [FR] - which was very critical of Assange – the former spokesman of WikiLeaks defended his alternative project to an audience who wasn't sympathic to his cause.
Participants questioned the reliability of the new pipework for leaks, as the project has already been significantly delayed. Over a five-day period during the conference, DDB challenged his audience to test the security of his website. In an interview with the German newspaper Der Freitag, DDB claimed he took nothing with him when he left WikiLeaks, saying "No, I didn't take any documents from Wikileaks. We don't have a treasure chest we can just dip into." Yet some still have their doubts.
The OpenLeaks initiative was poorly received, and triggered the wrath of the Chaos Computer Club (a prestigious German hacking organization, which included Domscheit-Berg). In an article by Spiegel, Chaos Computer Club's spokesman Andy Muller-Maguhn expressed his doubts concerning Domscheit-Berg integrity. "He is certainly quite flexible with facts." Andy revealed he was an intermediary between Assange and DDB for 11 months in hopes of saving documents – but this was in vain. A few hours later that day, Domscheit-Berg was kicked out of the CCC.
Today, he says it was precisely the mediation process that precipitated the documents' destruction:
As Andy Mueller-Maghun decided to put public pressure on us in order to finally get his hands on the remaining material, we decided deletion was the only safe way to go. I will not be pressured against my educated feeling to compromise source security for the sake of someone's or some projects interest. Source protection always came first, and that will never change.

WL never cared to talk to us directly, and I have never been told by anyone to negotiate with Andy either. As Andy was part of one of the biggest and irresponsible mistakes made by WL, causing all the cables today being available unredacted for everybody and forever, we have told Andy numerous times that we will not deal with him.
While the rumors were brewing among CCC campers returning home, WikiLeaks decided to put pressure on its former collaborator through its Twitter account: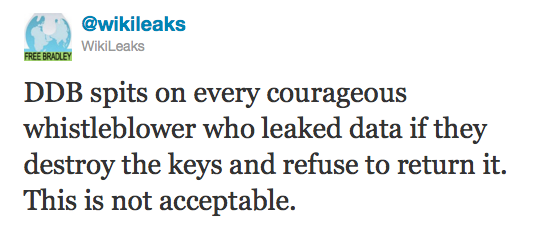 Two days later, Julian Assange published a statement attesting to the disappearance of thousands of documents from WikiLeaks. In essence, he accused DDB  of keeping contact with the FBI and of being manipulated by his wife Anke, who is responsible for open data at Microsoft. On this point, DDB's only comment was: "I basically cannot respond to that because anytime I (hear) that I have to start laughing. (It's) the most stupid idiocy I have (heard) in a long time."
Never expressing his name alone, the dissident denies slamming the door and taking the keys:
When I and others decided to quit in September, we also stopped sponsoring some of the servers. I was paying for 4 servers at that time for example. One of the servers contained documents that needed to be handed over. We never wanted them. WL did not care about this handover, other than one technician who was just overloaded with this task. Julian did not invest a single minute in making a secure handover happen. We only took the documents because no one could or would tell us where to put them.
As for WikiLeaks – already drowning in legal proceedings, including Assange's sex scandal – DDB blames the organization's poor management:
I can assure you I never had access to any systems other than that one mailserver. I have never manipulated anything, and the reason for WL being defunct today has nothing to do with me, but is a result of paranoia and technical incompetence. And maybe too much focus on raising funds rather than working on the technical side.
In a recent interview proceeding the CCCamp, Domscheit-Berg affirmed that whistleblower's confidence was at the foundation of WikiLeaks, as it is for OpenLeaks – but no one can require this. It remains to be seen how potential sources will respond to his ethical acrobatics.
Australian blogger @JLLLOW questioned Domscheit-Berg's stunt on her blog, 21st Century Samizdat. "Destroying documents is hardly good PR for a transparency activist", she wrote. OpenLeaks, who professes to have learnt from WikiLeaks' mistakes, strives to look good in the eyes of the media and Internet activists. But for many people in the open source ecosystem, the effect of this crazy initiative might not be righteous, but rather disastrous.
_____________________________________________________________________________________________
For further information, check out wikileaks.owni.fr and Olivier Tesquet's ebook WikiLeaks: A True Account
Photo Credits: Flickr CC andygee1, re:publica 11